Oslo Norway
Don't Skip The Northern Capitals

COVID slowed us down for a couple of years, and now a few health issues challenge us.  We're still traveling if not writing about it quite so much. Our goal in 2022 was get to all seven continents in one year... and we did it.

Going forward health issues may not allow us to travel.  No one can take away those memories though.  We hope all of you are well and staying safe... and that you find some inspiration here for YOUR future travels. 

Oslo is one of those European capitals that is just far enough away that it may take you a while to visit it. 
Far away from what?
...Well from the European capitals popular with tour groups and tourists.
It takes most people a couple of trips before they get to the Nordic cities. 
As far as Nordic capitals, go Stockholm and Copenhagen are bigger...
But you see, Norway's capital called to me because Grampa was from Norway.
Oslo Is On The Oslofjorden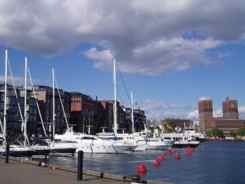 The city's fjord gives it a beautiful backdrop. 
It is a pretty city. 
Yes, it's an expensive city... 
It's probably the most expensive of the Nordic capitals...

But that doesn't mean you should leave it off your travel wish list. 
Stroll beside the fjord, then get out on it, and you'll soon think it's worth the splurge.
See The Akershus Slott (The Castle)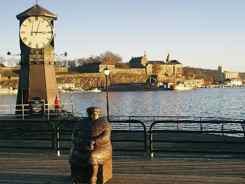 This castle complex overlooking the Olsofjorden is an important and beloved symbol of medieval Oslo.
It was originally built in 1300 as a fortress and royal residence.
After a fire, it was rebuilt in 1527 as a royal Renaissance palace.
It's not the King's residence now, but it is still used for state occasions.
Tours are available in many languages including English.
Visit The King and Queen
No... not really!
But, for a look at where the current King and Queen live, visit Det Norske Kongehus.
This palace is open to visitors only on occasion, and tickets must be purchased in advance.
Stroll the Slottsparken, the castle park, and take in the afternoon changing of the guard.
When the King is in residence, the Royal Guard band adds music to the pageant.
A stroll in the park won't cost you anything.  You need to save every penny you can in Norway!


Norwegian Art
The National Gallery and The City Hall  
Nestled among university buildings is the National Gallery. There is Norwegian and European art here, but what everyone wants to see is "The Scream" by Edvard Munch. 
See the Radhuset, the City Hall, for more paintings and sculptures.
Vigelandsparken
Take the T-Bane (the Metro) or a tram to Vigelandsparken, the sculpture park which contains the life's work of Norway's revered sculptor Gustav Vigeland.
It's in Frogner Park which is beautiful all by itself.
Norway's Viking History - Bygdøy
Viking Ship Museum
Explore more of Norway's Viking history by taking a ferry to Bygdøy Island. You can see the Vikingskiphuset, The Viking Ship Museum. 
It contains three of the best preserved Viking ships. 
They were burial ships which were excavated from the Oslofjorden, and they are now exhibited in a specially built hall.
The Kon-Tiki
In a building nearby see the "Kon-Tiki", the balsa raft that Thor Heyerdahl sailed on. 
Polar Ship - The Fram
For more sea-faring history see the "Fram", the polar vessel that was used by the famed polar explorer Amundsen.

The ship ventured father north and south an any other ship before it.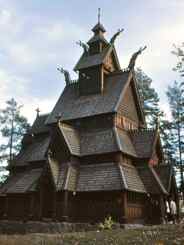 Norsk Folk Museum
Also on Bygdoy is the Norsk Folkemuseum - The Norwegian Folk Museum.
It's an open air museum with buildings moved here from all over Norway.
Some are old wooden buildings from medieval times. There is even an old Stave Church.
When To Go
This far north, you'll have the most sunlight for exploring in the summer when the day almost never ends.
Walk and take public transportation to save money.
By your beer at a grocery store and picnic in one of those great parks. Check out the Oslo Pass.
A pass for 24, 48 or 72 hours covers your admission to museums and public transportation. You can get the pass at tourists offices, at City Hall, the Central Station, or the cruise ship terminal.
Strike out like the Vikings did and explore... I have a feeling Oslo will conquer your heart.
Happy travels... even if you don't travel the world... just remember that life is a journey... embrace and enjoy it! Judy and Mark
Curious about what else we've written about?  Search our site for a destination or travel tip.

But... We'd love to have you share this page or comment on it…
Thanks, Judy and Mark

International Travel Tips
Go to Norway - Finding Friends and Family l Europe Travel Tips
Hotel and B&B Tips l Packing Lists
Go to MouseToursTravels Home Page