Sintra Has Castles and Fortresses
Feels Like A Delightful Time Warp
COVID slowed us down for a couple of years, and now a few health issues challenge us.  We're still traveling if not writing about it quite so much. Our goal in 2022 was get to all seven continents in one year... and we did it.

Going forward health issues may not allow us to travel.  No one can take away those memories though.  We hope all of you are well and staying safe... and that you find some inspiration here for YOUR future travels. 

Sintra is one of those places where there is so much packed in...
So many fairy tale castles and brooding fortresses...
...that you'll say to yourself, wow, how come I never knew about this before?
If you are about to leave Lisbon, you should have been to... or be headed for...Sintra.

It's a little town you don't want to miss.

You can make this a day trip from Lisbon if you want to...
...Though you could easily spend a couple of days here.
The train leaves about every 15 minutes from the downtown Estacao Rossio and takes about 45 minutes.

Take Your Time To Really See Sintra

Although it's an easy day trip from Lisbon, we think it's a good idea to stay overnight.
That will allow you more time to see all the sights and to experience its even more magical atmosphere at night.
The Lawrence's Hotel is the oldest hotel in town and right in the heart of the town's historic center, and it's pretty reasonably priced.
For an over-the-top stay in a palace, consider the Palacio de Seteais.

Start Of A Drive Through Portugal

If you're starting a driving trip of Portugal, this is a good place to start.
We picked up our car back at the airport so we wouldn't have to drive through Lisbon.
Can I tell you a little story? You know I will... I can't resist telling on myself...

We took a taxi back to the airport from downtown Lisbon.  I was paying close attention to the route… I'm the navigator when we drive remember.

They brought our car to curbside for us… (this was many years ago now).  So I thought it would be good to get directions.

When I asked how to get to Sintra (in my bad Portuguese) the rental car agent started giving me directions.

We speak a little Spanish, so I was following along pretty well when all of sudden I realized he was giving us directions that would take us back exactly the same route we had just drive from town!

"Wait!" I said.  That will take us back into Lisbon.

"Yes… to Centro." 

Well, I know my accent isn't good but...  I mean really!  We had just come from Lisbon Centro…

We gave up on verbal directions and found our own way using street signs and our map.


A Little City Full Of History

It's about a 30-45 minute drive from Lisbon. This little city is full of fairy tale palaces and extravagant villas.
The Romans were here.
The Moors built a hilltop castles and a palace in town.
And later it became the summer residence of the Portuguese royal family.
Palacio da Pena
Probably the most famous building in the city is the Palacio da Pena (or the Castelo da Pena).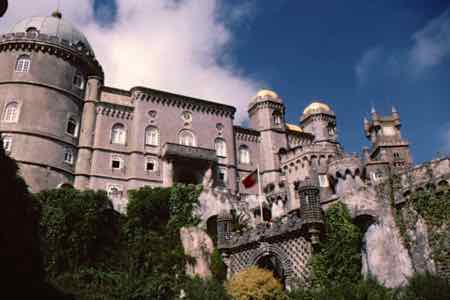 We thought the Pena Palace was so fanciful that words can't describe it, but it was so different...
It's pretty...
Haunting somehow...
So much so that we went through it TWICE! (This DID take a bit of talking on Mark's part!)
The Pena Palace IS fanciful... to an extreme, but that is part of its charm.
The last queen of Portugal left the palace in 1910 and went into exile.
The inside of the palace has been kept pretty much like it was when she fled. It's some of those personal touches that make it so haunting.

More Palaces In The Center Of Town

In the center of town on the main square is the Palacio Nacional de Sintra.
The National Palace was originally built by the Moors starting in the 14th century, and the ruling sultans spent summers here.
It was expanded by the monarchs of Portugal and was a functioning royal palace until the early 1900s.
There is a labyrinth of exceptional rooms to visit, and there is an extensive collection of the colored glazed tiles (Mudejar azulejos) that Portugal is famous for.

Things To See Outside Of Town Too

Just outside of town and overlooking the village are the ruined ramparts of the Castelo dos Mouros, a Moorish fort dating from the 8th century.
You can get a great view of Sintra from this hill.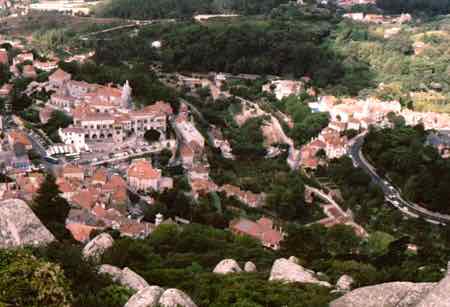 Scattered on the outskirts of town are other manor houses and small palaces that are worth seeing.
The Quinta da Regaleira is one which dazzles with turrets and towers and its surrounding garden.
A little further from town is the exotic Monserrate Palace surrounded by romantic subtropical gardens.
Round out your visit to Sintra seeing some of the convents and churches, and you will feel you have gotten a great dose of romanticism on a travel budget.
Happy travels... even if you don't travel the world... just remember that life is a journey... embrace and enjoy it! Judy and Mark
Curious about what else we've written about?  Search our site for a destination or travel tip.

But... We'd love to have you share this page or comment on it…
Thanks, Judy and Mark

International Travel Tips l Europe Travel Tips
Hotel and B&B Tips l Packing Lists
Go to MouseToursTravels Home Page