Drive From Madrid
COVID slowed us down for a couple of years, and now a few health issues challenge us.  We're still traveling if not writing about it quite so much. Our goal in 2022 was get to all seven continents in one year... and we did it.

Going forward health issues may not allow us to travel.  No one can take away those memories though.  We hope all of you are well and staying safe... and that you find some inspiration here for YOUR future travels. 

If you drive from Madrid you can tour some of the great small cities of Spain... 
El Escorial, Segovia, Avila, and Toledo are all nearby.
Driving in Spain is pretty easy.  Just take your time getting out of the city or out of the airport in Madrid… that's where things can get the most confusing. 
We've done several driving trips in Spain and I can tell you it's all worth it.

Here's an easy loop...

You can visit these great little cities on day trips…

...But to really soak them in, consider renting a car and driving like we did.

This loop can take four to five days depending on how long you linger.

Combine it with a visit to Madrid, and you have a great week vacation.



Drive From Madrid… Not In It!
We don't recommend driving in the city, but getting a rental car in town and driving out of Madrid seemed pretty straightforward.
We rented ours right in the center of town, and we had no troubles with our drive from Madrid out onto the open road.
El Escorial

The sprawling complex of the El Escorial Palace (Real Monasterio de San Lorenzo de El Escorial) worth a stop.
This combination monastery and palace is about an hour drive from the capital in the town of San Lorenzo de El Escorial.
There are furnished rooms to visit, and a great library to see.
The highlight of this complex is seeing the final resting place of four centuries of Spanish Kings and Queens... the Royal Pantheon.
You can make this a mid-day stop, see the palace, have lunch in town or at the Palace cafe, then continue on to Segovia.
Segovia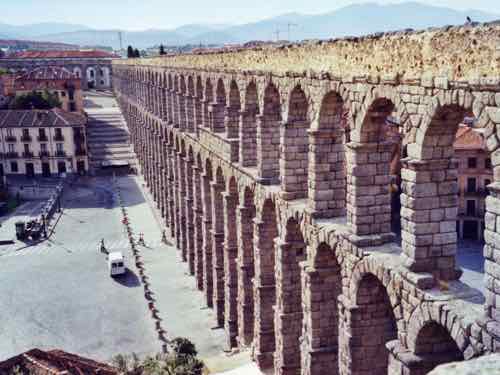 Segovia is fifty miles from Madrid.
This town perches on a hill and represents a couple of eras of Spanish history with both a fairy tale castle and a Roman aqueduct.
The town was started by the Romans. What is left of the aqueduct is 2,500 feet long and 100 feet high. It's double arches anchor one end of the town.
Have a dinner of suckling pig (cochinillo asado) in a restaurant next to the arches of the aqueduct. It's a pretty popular place. We went early and had no trouble getting a table.
Stroll the narrow, mostly pedestrian streets to the other end of town to see the Alcazar castle.  (Alcazar tranlates most closely to fortress... it has been that in the past too.)

It looks like a fairy tale castle because it burned in 1862, and it was rebuilt in this exuberant style.
There are historic furnishings inside and a great view of town from the tower.
Segovia is well worth spending a night.
Just be aware, it can be crowded on weekends. Parking is scarce, so make sure to secure parking along with your hotel.
Avila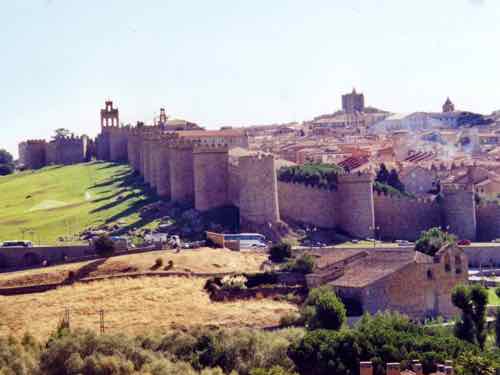 Avila is a city which could be overlooked...
But if you're into city walls, you shouldn't miss it.
The walls are intact, complete with 90 towers. It dates back to the 11th century.
The city was the birthplace of Saint Teresa and is an important pilgrimage site.
Once you've seen the museum and the Convento de Santa Teresa, head for the city walls.
The lively section of town is just outside the main gates. Sit and have tapas and enjoy the view.
Toledo
Now on your drive from Madrid tour, head for Toledo which is about an hour south of Madrid. (So you'll sort of circle around Madrid.)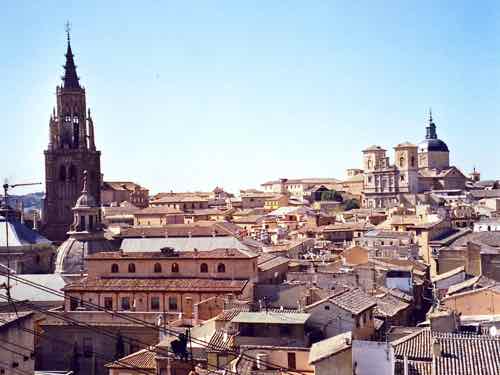 This former capital of Spain sits on a hill, surrounded by it's city walls and the Tagus River.
It has retained its medieval charm with city walls and winding streets...
...and lots of hills....
It's a fun city to wander and get lost in. Trust me, you'll get lost.
See the Cathedral and the Iglesia de Santo Tome where El Greco's painting El Entierro del Conde de Orgaz is on view. Discover more of El Greco all over the little city.
Wandering will uncover bits of Toledo's Roman, Moorish and Jewish history as well.
Stay In A Parador

To complete your tour, find a Parador to stay in for one more night before you return your car. Paradores are historic buildings that the government has converted to hotels.
Check out this castle on a hill....  Siguenza...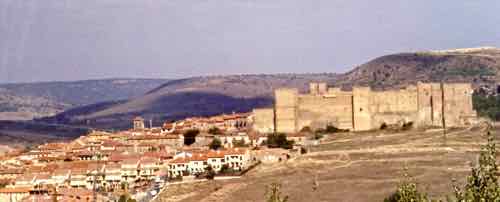 We stayed here.  The Siguenza Paradore has a connection to El Cid which you can learn about with a visit.
It's a castle turned into a hotel and is about an hour outside of Madrid. From there it was easy to get back to the airport and catch a flight home.
Happy travels... even if you don't travel the world... just remember that life is a journey... embrace and enjoy it! Judy and Mark
Curious about what else we've written about?  Search our site for a destination or travel tip.

But... We'd love to have you share this page or comment on it…
Thanks, Judy and Mark

Go from drive from Madrid to Madrid  Tapas and Raciones, Spanish Fun Food
International Travel Tips l Europe Travel Tips
Hotel and B&B Tips l Packing Lists
Go from Drive from Madrid to MouseToursTravels Home Page