Music In Prague
COVID slowed us down for a couple of years, and now a few health issues challenge us.  We're still traveling if not writing about it quite so much. Our goal in 2022 was get to all seven continents in one year... and we did it.

Going forward health issues may not allow us to travel.  No one can take away those memories though.  We hope all of you are well and staying safe... and that you find some inspiration here for YOUR future travels. 

We went to Prague to see the city and its history, but music in Prague is part of the fabric of the city.  It seems to be everywhere.
I remember saying I had never seen a city where everyone seemed to be walking around with a musical instrument of some type under their arm.

The first thing we did when we got to Prague wasn't to go and see the Charles Bridge or the Castle...
It was to go to an opera....
And that's what we suggest to all of our friends.
Whoa... wait a minute, you're saying.
"I'm not an opera buff."
We're not either, and we don't usually go looking for musical performances when we travel, but music in Prague just called out to us.


Music In Prague Starts With Opera
Back to that opera... We went to see "Don Giovanni" in the Estates Theatre Prague.
This jewel box of a theater opened in 1783.
Here's the clincer... This is the theater where Mozart himself conducted the world premiere of his opera Don Giovanni in 1788, back when the theater was called the Nostiz Theatre.
The building was beautifully restored for the movie Amadeus. According to their website, this is the only theater in the world that is still in its original condition.
To see Don Giovanni performed in the Estate Theatre is to share in history as well as sharing great music.
Whether you're an opera buff or not, it's a fun experience.
We were lucky to get great seats for a matinee on the day of the performance..., but if your time in Prague is short, you might want to buy tickets ahead of time online.
You Can See Opera Performed By Marionettes Too
If you want your opera in a really different setting, you could see one at the National Marionette Theater or a handful of other puppet theaters.


Concerts Every Night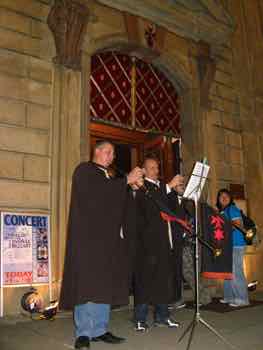 It seemed like there were several inexpensive concerts every evening.
Many churches had concerts, and there are several concert halls.
If you love classical music, you've got to get to Prague. There are concerts with the "best of" classical pieces, so even if you're not "into" classical music, you'll hear music that you're familiar with.
You can hear organ concerts, chamber music concerts, or full orchestras.
There are concerts with show tunes and popular music too.
None of these are not long drawn out affairs.
Most of these nightly concerts are about an hour long.  For reasonable prices it's a great way to spend an evening before you go for an evening stroll in the old town or on the Charles Bridge.
In the summer there are concerts on the steps of the National Museum and some of the gardens.


Music On The Corners and On The Bridge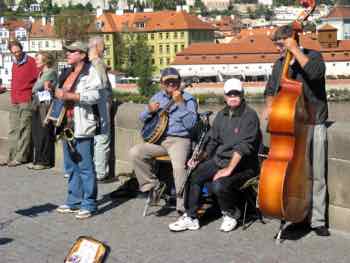 There are even musical groups on the corners and in the squares. 
All kinds of musicians crowd the Charles Bridge.
Music in Prague livens up the afternoon and early evenings for a few euros or dollars in donations even as you stroll the city...
Or sit in a square and have a Czech beer and listen.


Jazz Clubs and Music Festivals

There also seem to be many small jazz clubs and music clubs scattered around the city.
The biggest annual musical event is the Prague Spring International Music Festival. It includes musical artists, symphony orchestras and chamber music ensembles from all over the world. For an event like that, you should probably by your tickets in advance.
It's like we said at the beginning... music in Prague seems to be everywhere... so why not enjoy it
Happy travels... even if you don't travel the world... just remember that life is a journey... embrace and enjoy it! Judy and Mark
Curious about what else we've written about?  Search our site for a destination or travel tip.

But... We'd love to have you share this page or comment on it…
Thanks, Judy and Mark

International Travel Tips l Europe Travel Tips
Hotel and B&B Tips l Packing Lists
Go to MouseToursTravels Home Page