The Cinque Terre Villages in Italy
Discover Them For Yourself
COVID slowed us down for a couple of years, and now a few health issues challenge us.  We're still traveling if not writing about it quite so much. Our goal in 2022 was get to all seven continents in one year... and we did it.

Going forward health issues may not allow us to travel.  No one can take away those memories though.  We hope all of you are well and staying safe... and that you find some inspiration here for YOUR future travels. 

The Cinque Terre isn't exactly an undiscovered corner of Italy any more...
...but it's been discovered because it's such a charming area to visit.
Need a translation?  Five lands...
...for five distinctive villages.

Makes sense doesn't it?
       Riomaggiore,
       Manarola,
       Corniglia,
       Vernazza and
       Monterossa.
Cinque Terre - Jewels Clinging to the Cliffs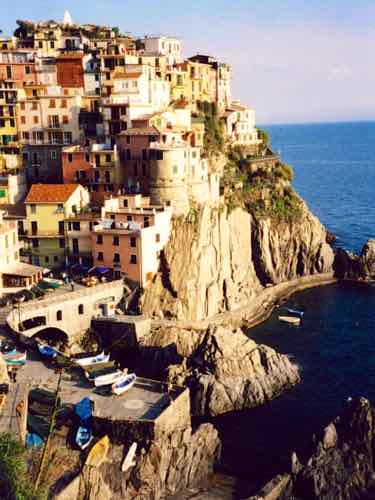 These villages weren't undiscovered the first time we visited, but we felt like we had discovered them because they are small towns.
Accommodations are limited and spread around, so even when there are lots of visitors, it feels like there are more locals than tourists...
And you travel to mingle with the locals, don't you?
We stayed in Manarola on that first visit. 
A glass of wine overlooking that cute little harbor, and we were hooked.
How To Get There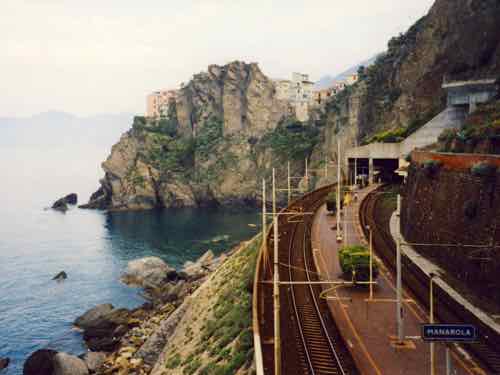 It DOES take a little more effort to get there than to some other areas of Italy.
There are different ways to visit these coastal charmers.
You can take the train to the middle of each village...
Or you can drive to the area... that's what we did.


Of course, if you drive, you must leave your car at a car park high above each village and hike down to it... with your luggage, remember!
Where To Stay

There are some hotels and many rooms for rent in houses.
You can arrange for accommodations once you are there, but it could involve hiking into more than one village from the car park...
We hiked into two villages before we found a room in Manarola the first time.
Our second visit was another two village hike before we found a room in Riomaggiore.
Better to arrange your accommodations ahead.
Each Village Is An Attraction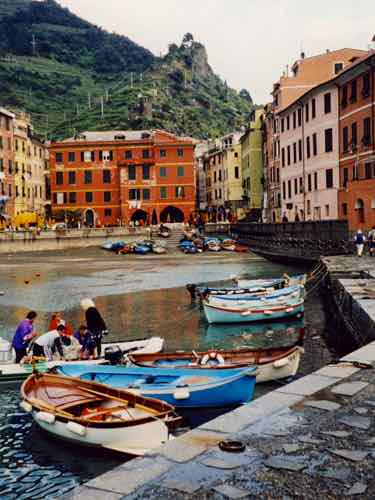 The attraction of the Cinque Terre is the pretty villages themselves.
Pastel colored houses jostle each other for space on the steep slopes and spill down to the sea.
Narrow streets and alleys twist and turn at unexpected angles.
Small fishing boats sit on the streets where you would expect cars to be.
Any one of the towns is a great place to stay.
They are all traditional fishing villages, but there are terraces above and around each village filled with vineyards, and olive and lemon groves.
Eat and Drink

Enjoy some local food and wine. There is a white wine grown in the terraced vineyards called Cinque Terre.
Pair it with anchovies which are a local specialty (and will be better than you expect because they are fresh) or with a pasta dish topped with pesto.
This area is the birthplace of pesto, and it doesn't get any better.
Top your meal off with another local specialty -- a dessert wine called Sciacchetra.


Hike Between Villages

There is a popular hike that links the five villages called the Sentiero Azzurro (the Blue Path).
It is a shore-hugging path that runs for 7 miles (11.3 km) from the southern most village of Riomaggiore to the northern most, Monterossa.
You can do this in a day if you are in good shape. The best time to go is in the spring when it isn't too hot.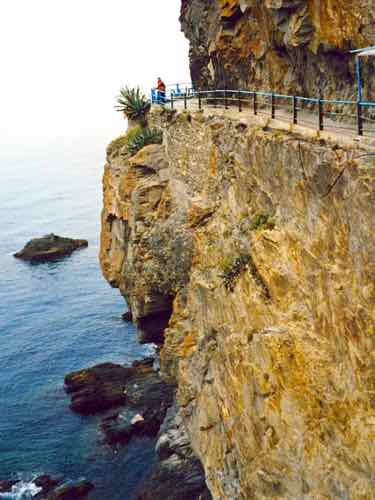 If you don't want to hike between all of them, you can do shorter hikes.
Consider the Via dell' Amore (Lovers' Way) between Romaggiore and Manorola.
It is the easiest stretch of the trail....
You can easily make it both ways in an easy morning of hiking.
(There is a nominal fee charged to walk this part of the trail. This section is paved, and the the fee helps with maintenance).
You can hike between just two or three of the towns and take the train back to your starting point...
Or catch one of the ferries that run from village to village in the spring and summer.
If you don't want to hike at all, take the ferry from one end to the other to enjoy the view. (The ferries stop at all but Corniglia since Corniglia sits high above the sea.)
Whether you drive to one, hike to all five or view them from the sea, you'll come away from the lively villages of the Cinque Terre with a smile on your face.
Happy travels... even if you don't travel the world... just remember that life is a journey... embrace and enjoy it! Judy and Mark
Curious about what else we've written about?  Search our site for a destination or travel tip.

But... We'd love to have you share this page or comment on it…
Thanks, Judy and Mark

International Travel Tips l Europe Travel Tips
Hotel and B&B Tips l Packing Lists
Go from Cinque Terre to MouseToursTravels Home Page