Whistler BC or Whistler Blackcomb
A Great Resort All Year Long
COVID slowed us down for a couple of years, and now a few health issues challenge us.  We're still traveling if not writing about it quite so much. Our goal in 2022 was get to all seven continents in one year... and we did it.

Going forward health issues may not allow us to travel.  No one can take away those memories though.  We hope all of you are well and staying safe... and that you find some inspiration here for YOUR future travels. 

Whistler BC... or Whistler Blackcomb as the resort is known... is located in the Coast Mountains of British Columbia.

It's near the foot of Garibaldi Provincial Park's 10,000 foot peaks (3,000 m).
...AND... This ski resort is only about 78 miles (125 km) north of Vancouver.
It was once a sleepy little ski town, but now it's been developed into a world class ski resort.
The name of the town is actually the "Resort Municipality of Whistler"! Really.

The Olympics Were Here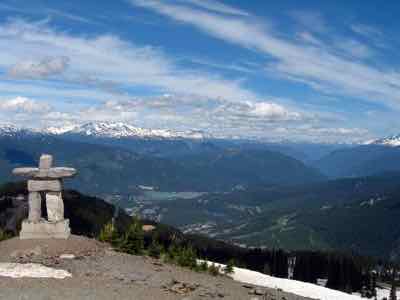 You may have heard about this area because of the 2010 Winter Olympics, but Whistler BC has always been ranked as one of the top mountain resorts in North America.... year round.
We did some skiing years ago, but not so much recently.  We found it a great area in summer.

This resort area was originally known as "London Mountain"; it only officially became Whistler in 1965.

Why Is It Called Whistler BC?

Do the winds whistle through the mountains?
No, its climate is really pretty mild considering its northern mountain location.
Highs in the summer are only 80 degrees Fahrenheit (26 C). In winter the chill makes for great powder, with average highs of 22 F (-5C). (Chilly for sure, but winter is when you go for the skiing and other snow sports... and you can always sit around the fire!)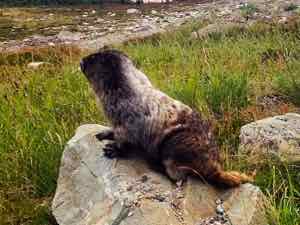 OK, then what did the name come from?
Named For A Critter!

From a hoary marmot that's native to these hills. A marmot?
Yes, these cute little critters emit a high-pitched whistling noise....
So the area became known as Whistler Mountain.

Skiing and Golfing

There are two great mountains for skiers and snowboarders. Whistler Mountain and Blackcomb Mountain.
Thanks to the glaciers in the area, ski season often lasts into August.
There are four championship golf courses for chasers of that little round white ball.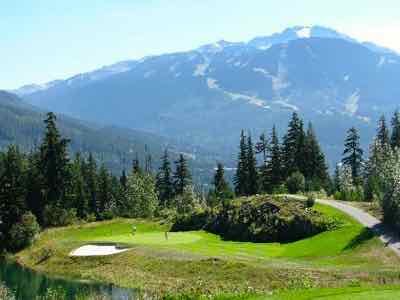 You could ski in the morning and golf in the afternoon!

Hiking, Biking, Climbing... And Spas

There are hiking trails, a mountain bike park and rocks to climb.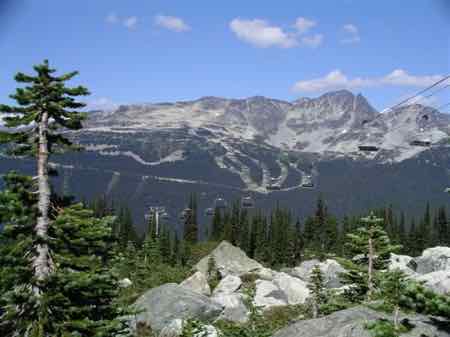 For the less active (or for the active to recover) there are restaurants, hotels, spas, and lots of shopping.
That should pretty much tell you that it's a place almost anyone would enjoy.

No Cars Once You're There

Whistler Village is a planned resort community that was designed in the 1960s.
It's pedestrian only... no cars...
But there is a free Village Shuttle to help you get around.
Whistler Mountain was a ski destination for years, but Blackcomb Mountain and the Village opened in 1980.
You might not suspect that it's all so new. There is a strict building code...
All large hotels are built in the chateau style, and all buildings are built with quarried stone, so it looks like it's been there much longer than it has...
It has a comfortable, European ambiance.
This area has grown in popularity thanks to their hosting of the 2010 Winter Olympics, but they can handle the crowds.
Summer or winter, Whistler BC is a destination worth considering
Happy travels... even if you don't travel the world... just remember that life is a journey... embrace and enjoy it! Judy and Mark
Curious about what else we've written about?  Search our site for a destination or travel tip.

But... We'd love to have you share this page or comment on it…
Thanks, Judy and Mark

International Travel Tips l Europe Travel Tips
Hotel and B&B Tips l Packing Lists and Tips
Go to MouseToursTravels Home Page