Victoria BC Canada
Compact Little City For Big Vacation Fun
COVID slowed us down for a couple of years, and now a few health issues challenge us.  We're still traveling if not writing about it quite so much. Our goal in 2022 was get to all seven continents in one year... and we did it.

Going forward health issues may not allow us to travel.  No one can take away those memories though.  We hope all of you are well and staying safe... and that you find some inspiration here for YOUR future travels. 

Victoria BC, it's the city in British Columbia we're talking about...
...not the state in Australian or Victoria Falls in Africa. This Victoria is the capital city of the province...

But that's not what it's known for.
Mostly it's known for its picturesque inner harbor with the Empress Hotel at its head.
The cozy Inner Harbor gives Victoria BC an intimate setting...
It seems friendly and inviting... and very "doable".

The Empress Hotel Anchors The Harbor

The hotel is called Empress, as in Victoria, Queen and Empress.
It was Victoria the city was named for. (She was Queen of the United Kingdom and Empress of India and of the British Raj.)
The grand old ivy-covered Empress Hotel is the city's most photographed attraction. It graces almost every tourist brochure you will see.
Have Tea At The Empress

You really must stop for a proper English afternoon tea.
The Empress does this tradition up right serving fancy cakes and sandwiches and, of course, scones and cream.
Reservations are required. You might be able to make them when you arrive, but make them ahead if you don't want to be disappointed.
Check for dress requirements.... this is a "proper" tea after all.  (When we took our nieces, they wanted to wear tennis shoes and jeans... that just wouldn't do!)

Along The Inner Harbor

Along the edges of the inner harbor are some of the grandest heritage buildings in the city.
Off to the left as you face the Empress Hotel, you can see the Legislative Building of British Columbia.
Take some time to visit and see its murals and stained glass.
Tours are available.
The lawns and gardens in front are part of what make the Inner Harbor so pretty...
And the effect continues into the night when the building is illuminated by over three thousand lights.
These buildings around the Inner Harbor seem imposing, but few buildings in the city are skyscrapers...
Few are even over seven stories tall.
I guess that's part of the charm of the city. The scale seems so manageable.
The Inner Harbor is the lively center of the city.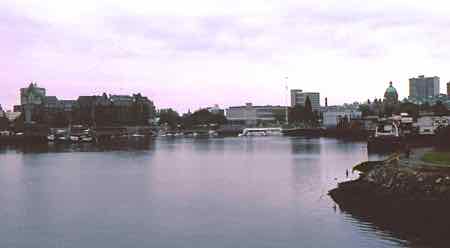 It bustles with seaplanes, ferries, yachts... even kayaks and rowing boats.
During the summer, hanging flower baskets spruce up the lamp posts, and you're sure to see "outdoor entertainers" trying to catch your eye.
Branch Out To Explore

Explore the city streets that branch off from the head of the Inner Harbor.
The city is easy to explore on foot.
There is great shopping in lots of unique shops. See Old Towne, Chinatown, and Fisherman's Wharf.
There are double-decker buses reminiscent of London to help you get around.
Take a horse drawn carriage ride around the harbor, through Beacon Hill Park and past historic homes and landmark buildings.
Learn About The First Nations

Explore the First Nations culture.
The city has lots of galleries with art made by members of the First Nation whose art and traditions are alive and well.
Butchart Gardens

Make time for a visit to the famous Butchart Gardens.
Victoria BC has the mildest climate in Canada, so gardens bloom year-round.
Lots Of Outdoor Activities

If you feel like getting out of the city, and getting a little exercise you can go bicycling...
...or try a kayak or canoe on the inner harbor or beyond.
There are great golf courses, and that mild climate that keeps gardens blooming let's you golf year around too.
Tour companies can take you out fishing or whale watching.
Explore The Island Beyond Victoria BC

Victoria is located on Vancouver Island. Vancouver is not. That's something I've never figured out...
No matter...
Explore Victoria BC, but remember, there is the whole Vancouver Island to explore.
Happy travels... even if you don't travel the world... just remember that life is a journey... embrace and enjoy it! Judy and Mark
Curious about what else we've written about?  Search our site for a destination or travel tip.

But... We'd love to have you share this page or comment on it…
Thanks, Judy and Mark

International Travel Tips l Europe Travel Tips
Hotel and B&B Tips l Packing Lists and Tips
Go to MouseToursTravels Home Page