Sea to Sky Highway From Vancouver
Scenic and Fun
COVID slowed us down for a couple of years, and now a few health issues challenge us.  We're still traveling if not writing about it quite so much. Our goal in 2022 was get to all seven continents in one year... and we did it.

Going forward health issues may not allow us to travel.  No one can take away those memories though.  We hope all of you are well and staying safe... and that you find some inspiration here for YOUR future travels. 

"The Sea to Sky Highway in Brisith Columbia really does make you feel like you're driving to the stars...
Cute seaside villages and majestic mountains...
Visitors shouldn't miss this highway." Mike

One way to explore this corner of Canada is to take the Sea to Sky Highway.
You can use the city of Vancouver as a base to see the sights along this highway in a day...
...or you could make it a driving trip to explore for a couple of days.
Either way you'll be glad you explored this route.

Drive The Sea To Sky Highway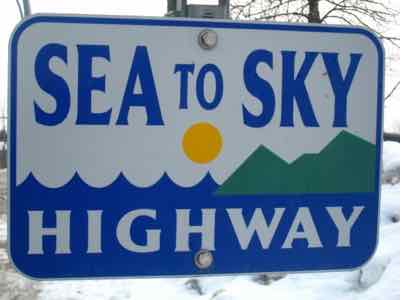 Tours are an option, but we think getting a rental car is the way to go.
This highway is a twisty, winding along the sea then climbing to the mountains...
It's very scenic road with beautiful sights at almost every turn.
"Sea to Sky Highway" is the name given to part of British Columbia Highway 99.
This scenic part starts just north of Horseshoe Bay about 12 miles (20 km) from Vancouver and takes you to Whistler.

Take It Slow... No Need To Rush

Much of it is a two lane undivided highway running along cliffs and paralleling Howe Sound.
Improvements are being made, widening it and adding median barriers, but...
Take it slow and easy....
First because you have to...
Second because you'll want to... there are just so many places you'll want to stop and admire the scenery.
You could do the drive in two to three hours if you went straight through, but why would you want to?

What's There To See?

Horseshoe Bay
Well, Horseshoe Bay right at the beginning is worth a look. It's a charming little seaside village with shops and cafes.
Once you leave Horseshoe Bay, you'll be winding through the coastal old-growth rain forest, then the mountain regions of British Columbia.
Howe Sound - A Canadian Fjord

Have you read about our Norwegian Fjord Drive?  Here's one closer to home for us.

For about half the drive you'll be driving along Howe Sound which is really a deep ocean fjord.
Drive along to Porteau Cove enjoying stunning coastal vistas.
At nearby Brittannia Beach you can stop and tour the BC Mining Museum if that interests you.
Squamish And Shannon Falls

On your way to Squamish, stop and take a 10 minute walk to Shannon Falls. At 1,100 feet (335 m) it's one of the tallest waterfalls in Canada. The trail is steep but paved.
In the cute little city of Squamish itself, train buffs can visit the West Coat Heritage Railway Park.
Squamish is an old mill town...
Now it's a haven for outdoor activities and a good place to find a B&B, a rustic cabin, or a nice hotel so you can really explore.

Hikes and Picnics

Heading north, you'll find a viewpoint where you can get a great view of the Tantalus Range before you pass through Garibaldi Provincial Park.
You can stop in the park for hikes or picnics.

Brandywine Falls

Brandywine Falls is worth a visit.
It's different from Shannon Falls...
Shorter but also pretty amazing.

Go All The Way To Whistler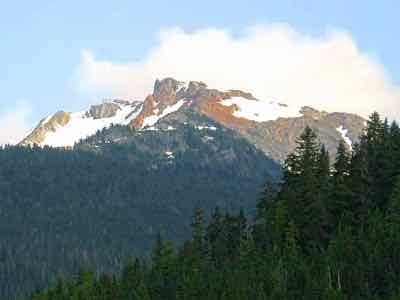 And then there is Whistler itself.  It's always been famous as a ski resort.  This is where the 2010 Olympics ski competitions were.
It's worth a visit at any time of the year.  There is hiking and beautiful scenery and the road is much more fun to drive in good weather.

Canadians like to boast that the Sea to Sky Highway is one of the most beautiful and scenic drives you'll find anywhere in the world.
We've driven many scenic highways that can make this same claim, but we think the Canadians are right about this one!
Happy travels... even if you don't travel the world... just remember that life is a journey... embrace and enjoy it! Judy and Mark
Curious about what else we've written about?  Search our site for a destination or travel tip.

But... We'd love to have you share this page or comment on it…
Thanks, Judy and Mark

International Travel Tips l Europe Travel Tips
Hotel and B&B Tips l Packing Lists and Tips
Go to MouseToursTravels Home Page