Vancouver - British Columbia

Worth A Visit Any Time Of The Year
COVID slowed us down for a couple of years, and now a few health issues challenge us.  We're still traveling if not writing about it quite so much. Our goal in 2022 was get to all seven continents in one year... and we did it.

Going forward health issues may not allow us to travel.  No one can take away those memories though.  We hope all of you are well and staying safe... and that you find some inspiration here for YOUR future travels. 

Vancouver is one of the prettiest and friendliest cities on the west coast of North America.
The Gastown district is where we've stayed when we visited.
It's where the city first started...
And it still has cobble stone streets and many buildings left from the late 1800s.
Gastown is geared for tourists...
It used to be that locals stayed away...
...But these days, it seems to be a pretty popular area with tourists and locals alike.

Everyone Enjoys Gastown In Vancouver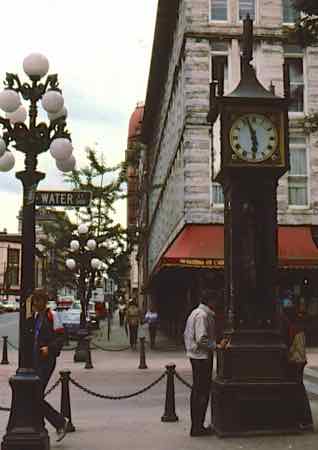 The Steam Clock

There is a steam clock you shouldn't miss.
It "pops off" with hoots and whistles every fifteen minutes...
much to the delight of the crowds that will be gathered with you.
Native Art

It's loaded with tons of souvenir shops where you can buy fantastic native art...
...or maybe we shouls say pieces made by members of the First Nations.
There are also lots of places to sit outside for coffee or drinks to watch the crowds go by.
There are plenty of restaurants and clubs too.

Stanley Park

Stanley park is one of the must sees of the city.
You'll be treated to gardens, city views, and great spots to stop and take pictures.
You'll also find one of the world's largest aquariums here in the park.
Totem Poles

Perhaps the most famous attraction within the park is the collection of totem poles.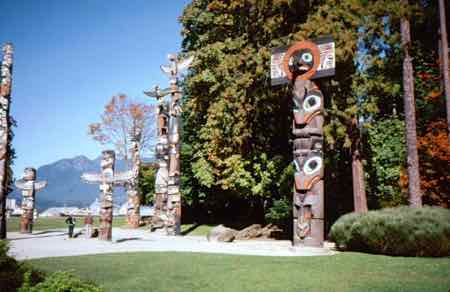 The Stanley Park First Nations Totem Poles are located in the park at Brockton Point.
Don't miss a drive or walk along the 5 mile long (8 km) seawall.
There are also tennis courts, a cricket club, restaurants and a miniature railroad.

Museums
When we visited with kids, Science World Vancouver was a great hit with them.
It was originally one of the pavilions of the World Fair Expo in 1986, and now it houses interactive science exhibits that are hits with all ages.
We liked the Museum of Vancouver and the Museum of Anthropology. I guess I should mention that we love native and primitive art, so that may color our judgement.
They have fantastic collections of Pacific Northwest Coast First Nations masks and artifacts, and their explanations about the First Nations people were really terrific.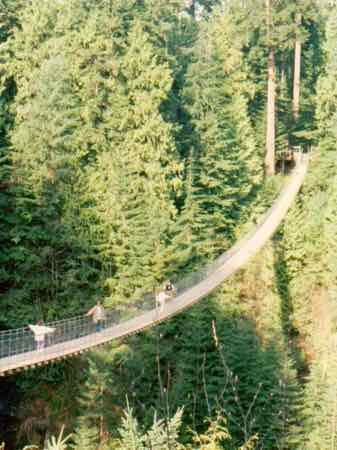 The City Forest

Just outside of the city you shouldn't miss the Capilano Suspension Bridge.
It's only about ten minutes from Vancouver...
Through Stanley Park...
...Over the Lion Gate, and up the road....
This 450 foot long (137 m) suspension bridge is 230 feet (70 m) above the ground.
It sways back and forth as you walk above the river and into the evergreen rainforest...
No jumping... please?



Transportation Choices

You have choices for transportation...
There are public buses to get around the city.
The Sky Train which is a mostly above ground light rapid transit system.
And...
The Sea Bus also goes back and forth across the harbor.
We had a rental car and drove around. There seemed to be plenty of public parking.
You can also see the city from the water by taking a ferry ride.

When And How To Visit

When...
You can visit anytime of the year.
Winter is best for skiers...
Summer is great for hiking and water sports,...
And of course, you can visit museums and shop all year long.
How To Get There

To get there you can fly to the international airport or drive from Seattle or other parts of Canada.
You can even cruise in. Cruise ships dock at Canada Place within walking distance of many of the major sights....
And there is always the ferry from Seattle or Victoria.
This great west coast Canadian town is worth a visit at any time.
Happy travels... even if you don't travel the world... just remember that life is a journey... embrace and enjoy it! Judy and Mark
Curious about what else we've written about?  Search our site for a destination or travel tip.

But... We'd love to have you share this page or comment on it…
Thanks, Judy and Mark

International Travel Tips l Europe Travel Tips
Hotel and B&B Tips l Packing Lists and Tips
Go to MouseToursTravels Home Page