Vancouver Harbor Cruise
Get A Different View Of The City
COVID slowed us down for a couple of years, and now a few health issues challenge us.  We're still traveling if not writing about it quite so much. Our goal in 2022 was get to all seven continents in one year... and we did it.

Going forward health issues may not allow us to travel.  No one can take away those memories though.  We hope all of you are well and staying safe... and that you find some inspiration here for YOUR future travels. 

Experience outdoor Vancouver the easy way.... Take a Vancouver Harbor cruise.
You don't even have to break a sweat...
...No hiking or biking or kayaking.
You could take a high speed "sea safari" if you want the thrill, but most tours are relaxing.

Take a break from all the walking, the museums, and the galleries.
Just sit and relax and enjoy the view.



Vancouver Harbor Cruise Options
One Hour Scenic Tour
A Vancouver harbor cruise can be something as simple as a one hour scenic tour that takes you on a journey through Canada's "Gateway to the Pacific"... the Burrard Inlet.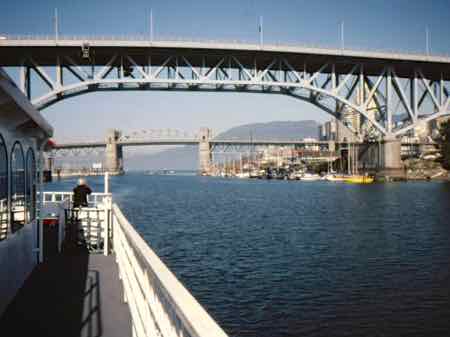 You'll see many of the city's most famous landmarks... Stanley Park, the Vancouver Lookout tower, Lions Gate Bridge and Gastown, not to mention the cruise ship terminals and the mountains.
These harbor cruises are completely narrated, so you'll know what you're seeing and the history behind it. You can grab a drink from the bar, sit on the open air decks or stay dry and comfortable inside the cabin if it rains.
Cruise To English Bay
Another option is to cruise beyond the harbor and take a cruise to English Bay. This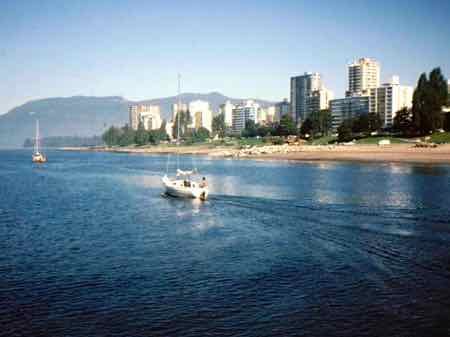 This cruise takes about two and a half hours past all of those same landmarks and beyond to enjoy spectacular open ocean views of one of Vancouver's more picturesque bays.
Sunset Dinner Cruises

There are evening sunset dinner cruises where you can watch the sun set over Vancouver, and there are starlight dinner cruises for spectacular views of the lights of the city skyline.
Instead of dinner and a movie, you get dinner and sightseeing!
A Long Leisurely Lunch Cruise

If you have more time, use a half of a day to take a lunch cruise and see Indian Arm.
Indian Arm is an 18 km long (11 mile) long coastal mountain fjord.
The Coast Mountain range was once covered with glaciers, and when they retreated, they left behind this spectacular landscape featuring lush green forests.
Don't worry about motion sickness and eating. Even this far outside of the inner harbor, you'll still be cruising on calm waters.
(I only mention this because I always say I get seasick in the bathtub!)
Whale Watching

For some real adventure, you can take a whale watching cruise. Tour operators will pick you up at your hotel or B&B and whisk you to your point of departure.
You can choose between exhilarating zodiac adventures or traveling protected from the elements in covered, high-speed boats equipped with washroom facilities.
On whale watching cruises, you can expect to see Orcas (Killer Whales).
During the April to October season, Orcas come into the waters between the mainland and Vancouver Island. The tour company says, "If you don't see whales, your next trip is free."
You may also see sea lions, seals and lots of birds.
Be on the lookout for bald eagles.
Allow a full day for these trips... whale watching trips usually last 6-8 hours including pickup and drop off. You can also opt to drive to the point of departure.

Cruises Can Be Part Of A See Vancouver Card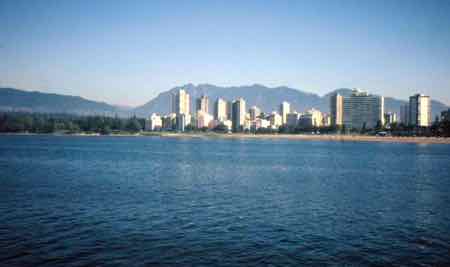 Vancouver Harbor Cruises are included on the See Vancouver, Victoria and Beyond Smartvisit Card.
You always have to judge for yourself if cards like this will pay for themselves, but it's worth checking out.
The sea and the harbor are a large part of Vancouver's history and its charm, so take it all in... take a Vancouver Harbor Cruise.
Happy travels... even if you don't travel the world... just remember that life is a journey... embrace and enjoy it! Judy and Mark
Curious about what else we've written about?  Search our site for a destination or travel tip.

But... We'd love to have you share this page or comment on it…
Thanks, Judy and Mark

International Travel Tips l Europe Travel Tips
Hotel and B&B Tips l Packing Lists and Tips
Go to MouseToursTravels Home Page