Butchart Gardens Victoria
More Than Flowers - A Work Of Art
COVID slowed us down for a couple of years, and now a few health issues challenge us.  We're still traveling if not writing about it quite so much. Our goal in 2022 was get to all seven continents in one year... and we did it.

Going forward health issues may not allow us to travel.  No one can take away those memories though.  We hope all of you are well and staying safe... and that you find some inspiration here for YOUR future travels. 

You don't have to be a gardener to want to visit Butchart Gardens in Victoria British Columbia.
It IS a garden... but to call it that almost misses the mark.
THIS garden is truly a work of art and not to be missed.
It is not really one garden...
Butchart Gardens is a group of several gardens all in one glorious place...
And it is one of Victoria's most popular attractions.



Themes In Butchart Gardens

You'll stroll through 50 acres of blossoms and fragrance.
The theme gardens are linked by gentle paths and spacious lawns with streams and lily ponds sprinkled in.
You won't believe that it started as a limestone quarry back in the early 1900s.
The owner's wife first planted a Japanese garden near her house...
When the quarry was exhausted, she turned it into the Sunken Garden masterpiece....
The tennis court became an Italian garden...
And then the kitchen garden became a large rose garden.
Some gardeners just can't quit!

Family Owned and Run

The family still owns and runs the gardens.
The original house has grown through the years too, and today it houses the Dining Room Restaurant and offices.

Flowers For Every Season

There is something to see in every season.
For gardeners who know their plants, the their website will give you a month by month highlight of what you can expect to see in bloom.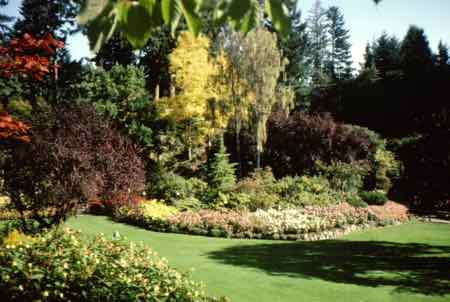 These Gardens Claim Five Seasons!

In spring... trees leaf out, and the bulbs wake from winter.
In summer... you can stay longer in the gardens, even staying for night time fireworks on Saturdays.
In Fall... They say the Japanese Garden is at its best.
In winter there is a large indoor garden and a historical display in the old family house.
And the fifth season?
Christmas, when there are lots of colored lights to highlight the winter blooming shrubs.... and there is even an ice-skating rink.

What You Need To Know

There is a cafe and two restaurants.
You must pay for admission to the gardens to get to any of them.
There are picnic tables available near the parking area.
Butchart Gardens is wheelchair accessible.
Pets are allowed, but must be on short leashes.
In the summer months you can even take a boat tours of Tod inlet. You'll learn about the beginnings of the limestone quarry and the gardens, and see some wildlife.

Get Souvenirs And Seeds

They don't just have a gift shop, they have a Seed and Gift Store.
You'll find an array of gifts and souvenirs... and there is garden clothing and jewelry...
But it's the seed packets that dedicated gardeners will love.
Seeds from the gardens are still individually packaged by hand.

Bring Your Camera

Make sure you have your camera with you when you stroll the gardens....
You'll be snapping pictures around every bend in the path.
How DO they get all those flowers blooming so beautifully? My garden plants have never looked like that!
You'll probably find yourself wishing you could go back and visit Butchart Gardens during each season...
Happy gardening.
Happy travels... even if you don't travel the world... just remember that life is a journey... embrace and enjoy it! Judy and Mark
Curious about what else we've written about?  Search our site for a destination or travel tip.

But... We'd love to have you share this page or comment on it…
Thanks, Judy and Mark

International Travel Tips l Europe Travel Tips
Hotel and B&B Tips l Packing Lists and Tips
Go to MouseToursTravels Home Page