Campbell River BC
Visit The Wilder Side Of Vancouver Island
COVID slowed us down for a couple of years, and now a few health issues challenge us.  We're still traveling if not writing about it quite so much. Our goal in 2022 was get to all seven continents in one year... and we did it.

Going forward health issues may not allow us to travel.  No one can take away those memories though.  We hope all of you are well and staying safe... and that you find some inspiration here for YOUR future travels. 

If you're touring Vancouver Island, you really should get up to the Campbell River area.
Why?  Salmon for one thing... and bears.

We have to agree, if you're stopping in Victoria while you're on a cruise, it might be a little hard to get there.
Save it for your next visit....
But if you have the time, you'll be glad you included the wilder side of Vancouver Island in your itinerary.
This is a great area for enjoying the outdoors and watching wildlife.
Campbell River - Salmon Capital

The rhythms of life here revolve around the salmon.... It's long been known as the Salmon Capital of the World.
The fish returning to their spawning grounds attract anglers and animals.
If you are interested in fishing, you probably have heard that there are five species of Pacific salmon that you can fish for depending on the season. You can fish for Chinook Salmon all year. (These are also known as King Salmon.)
If you plan a trip for August you can fish for all five species!
The salmon life cycle provides something year round for wildlife.
     ...Whether the salmon are hatching,
     ...feeding and growing in the river,
     ...traveling to the ocean or returning to spawn...
It's Like A Canadian Safari


...Their travel around and through the Discovery Passage attracts and sustains a wide variety of wildlife.
It's like a Canadian safari...
You can hope to see whales, bears, otters, eagles and ravens among other wildlife.



First Nations Culture

You'll see representation of these animals in the First Nations art too.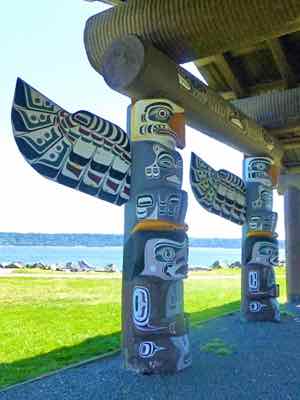 The "First Nations" name encompasses native people all across Canada.
Here in the Campbell River area, the members of First Nations tribes carved totems and made masks with beautiful representations of all of those animals.
Museums have great collections of the art.
Cultural centers host drummers, singers and dancers wearing ceremonial regalia.
Step back in history at the Museum at Campbell River and Kwagluth Museum.
There is a busy arts and culture scene. You'll find lots of local shops that feature works by local artists including authentic First Nations art, jewelry and carvings.

Adventure and Eco-Tourism

More recently this area is becoming known as a destination for adventure and eco-tourism.
There is rock climbing, hiking, kayaking and canoeing.
You'll find thousands of caves to explore if you like spelunking.
One unique experience is to "Snorkel with the Salmon" as they make their way upstream to spawn.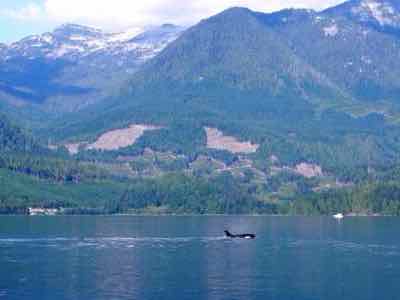 There is even scuba diving, though I have to tell you, I'm a warm water diver...
I took a pass on this one, but among divers, the Discovery Passage has a reputation as having clear water and lots of sea life to see....
...Including Orcas!  Another reason I took a pass.

Getting There And Accommodations

You can join a tour to visit the area or visit with a rental car.
It's 95 miles (155 km) from Victoria. If you come over on a ferry and arrive at Nanaimo, it's 165 miles (265 km).
You can even sail in if you have a boat. (Consult tide tables and marine charts for approaches to the Campbell River.)
As far as accommodations, there is a broad range.  You can go wilderness camping or you can enjoy destination resorts for fishing and adventure.
Some of the resorts offer float plane tours, golf packages, and whale or bear watching tours. You can fly in on small local carriers.
Campbell River may call itself the Salmon Capital of the World, but you don't have to be a fisherman to visit and enjoy it.
Happy travels... even if you don't travel the world... just remember that life is a journey... embrace and enjoy it! Judy and Mark
Curious about what else we've written about?  Search our site for a destination or travel tip.

But... We'd love to have you share this page or comment on it…
Thanks, Judy and Mark

International Travel Tips l Europe Travel Tips
Hotel and B&B Tips l Packing Lists and Tips
Go to MouseToursTravels Home Page