Washington DC
Capital of the USA...
...AND...
Tourist Destination!
COVID slowed us down for a couple of years, and now a few health issues challenge us.  We're still traveling if not writing about it quite so much. Our goal in 2022 was get to all seven continents in one year... and we did it.

Going forward health issues may not allow us to travel.  No one can take away those memories though.  We hope all of you are well and staying safe... and that you find some inspiration here for YOUR future travels. 

Washington DC is the capital of the United States... But you knew that. 

It's full of government employees and government buildings...
...but it is also a great place for tourists from all over the world.
The District of Columbia isn't in any of the states...
It was carved out as a federal capital district so it could serve all of the states.
...AND...
It's a popular vacation destination for American families.
History, Government, and Museums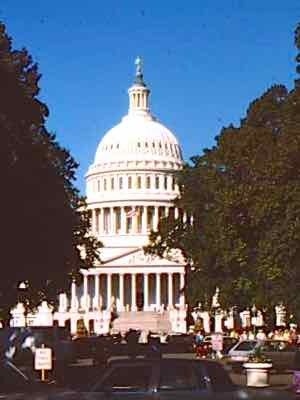 What better place to teach your kids a little about history and government while having fun?

It's also popular with visitors from abroad because of the museums and monuments.
There is just so much to see....
The White House...
The Capitol Building...
The Smithsonian Museums...
The Washington Monument...
The Lincoln Monument...
The Mall itself...

Washington DC Mall - Our Front Yard

The National Mall lies at the center of it all. It is a long strip of expansive (mostly) green lawns in the center of the buildings and monuments.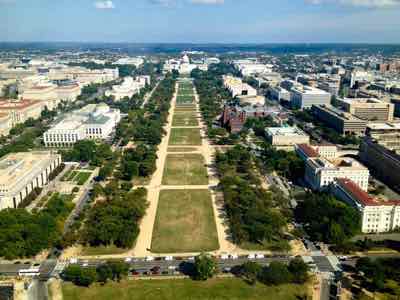 It is sometimes called America's front yard.
This tree lined area stretches two and a half miles (4 km) from the Potomac River to the U.S. Capitol Building on Capitol Hill with the White House adjoining it off to one side.
The Mall is the central piece of most sightseeing visits to Washington DC.
You can walk to the museums and monuments that surround the mall, but seeing it all is more than a leisurely stroll.... it can be quite a hike!

Tourist Buses Get You Around

Consider buying a ticket for the hop-on-hop-off buses that serve the area.
The Tourmobile circles the Mall with stops at all of the monuments, the White House and Arlington National Cemetery.
There are two other options... the Open Top Sightseeing bus and the Old Town Trolley which also have stops on the Mall and serve other areas of Washington DC as well.

Government Building Tours

White House Tours

White House tours are available again on a limited basis. All tours must be scheduled in advance. If you are an American and want to tour the White House, contact your Member of Congress well in advance of your trip. Tour tickets are free, but they are distributed on a first come first served basis.
Foreign visitors may contact their respective embassies in Washington DC or the US Embassy in their country to inquire about White House tour opportunities.
Check the White House website for details. 

The U.S. Capitol Building

Guided tours of the U.S. Capitol are available Monday through Saturday from 9 am to 4:30 p.m.
Free tickets are available on a first-come-first served basis at the Capitol Guide Service Kiosk. They must be used at the time of pick-up.
If you want a gallery pass, contact your member of Congress or Ambassador as for the White House.
Security
Keep in mind that there will be security screenings for tours of any of the major government buildings.

Monuments Around The Mall and Beyond

Don't miss all the monuments scattered around the Mall...
...and all of the Smithsonian Museums.
If you tire of the city, you can always head out to the environs of Washington DC to see things like Mount Vernon....
...bike along the C&O Canal...
...or explore the old town sections of Georgetown and Alexandria.

Where To Stay

If you have tons of money, you can stay at one of the hotels right in the District.
A more inexpensive option is to stay outside the city where you'll have a bigger choice of reasonably priced hotels. Try to find a hotel within walking distance (or a hotel shuttle ride) to a Metro station.
We've stayed in the Crystal City neighborhood of Arlington, Virginia. It's close to the Reagan Washington National Airport, and just south of downtown Washington DC. There are several hotels to choose from. They all have shuttles to take you to the metro or the nearby restaurant district.
All of the major tourists attractions are within a reasonable walk from a Metro station. There are plenty of things to see in the District to keep you going for days.
Happy travels... even if you don't travel the world... just remember that life is a journey... embrace and enjoy it! Judy and Mark
Curious about what else we've written about?  Search our site for a destination or travel tip.

But... We'd love to have you share this page or comment on it…
Thanks, Judy and Mark

International Travel Tips l Europe Travel Tips l Travel in America
Hotel and B&B Tips l Packing Lists
Go to MouseToursTravels Home Page