Drive The Western National Parks
COVID slowed us down for a couple of years, and now a few health issues challenge us.  We're still traveling if not writing about it quite so much. Our goal in 2022 was get to all seven continents in one year... and we did it.

Going forward health issues may not allow us to travel.  No one can take away those memories though.  We hope all of you are well and staying safe... and that you find some inspiration here for YOUR future travels. 

A loop through some of the western National Parks of America makes a great driving trip.
If you're interested in seeing just how big the American West is...
...this is one way to do it.
If you want to see natural wonders... here they are.
If you like hiking... there are hikes galore.
When we have friends visit us from Europe, they love to make this driving loop if they have time.
Sometimes we have people ask us why we travel the world when there is so much to see in the United States...
We love travel in America AND the rest of the world.
Actually, we travel a lot in the U.S. too.
We decided it was time to share some of our favorite destinations with our international readers..... you!

To Drive The Western National Parks Loop
You Need AT LEAST A Week

In a week, you can drive a representative loop through Nevada, Utah and Arizona.
The actual starting point for the loop listed in most guides is Las Vegas.
For the loop through the western National Parks we're describing here, you will be driving about 1050 miles (1,690 km).
Start In Las Vegas

You can fly directly to Las Vegas from many cities in the U.S.
You probably will want to spend a day or two in Las Vegas to gamble, see some shows, or just satisfy your curiosity about "Sin City", so allow time for that too.
Zion National Park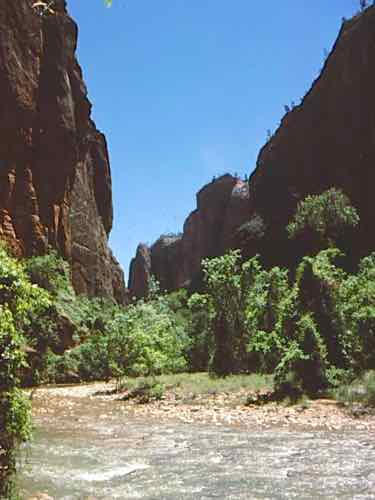 The first stop on this drive is Zion National Park.
It is a deep canyon carved by the innocuous looking Virgin River.
Hike IN The River

There's a great hike up this river into a slot canyon called "The Narrows Hike".... and the canyon does narrow to only 20-30 feet across in places.
You will spend 60% of your time IN the river as the canyon walls soar above you. We loved this hike... it made us feel like real adventurers.
(You must check on conditions at the visitor center... flash floods are possible.)
Other Hikes and Where To Stay

If you're not up for that strenuous hike, there are other hikes that let you see much of what the park has to offer.
Scenic drives let you see some sights by car.
There is a Lodge in the park and more accommodations are available outside the park. Campgrounds are available.
Bryce Canyon National Park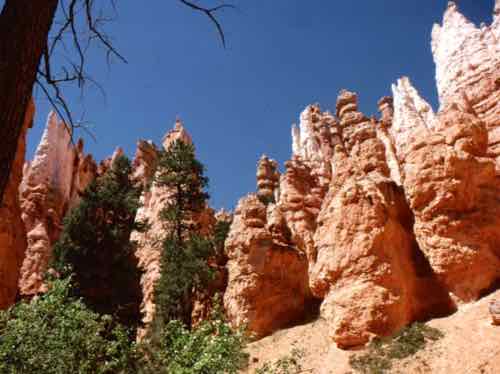 Bryce Canyon National Park is your next stop.
It's a small National Park, but some visitors come away saying this was their favorite park....
It's certainly one of ours.
It's famous for its colorful spire-shaped "hoodoos".


A hike into the canyon will make you feel you've entered a fairy wonderland.
This park has a Lodge in the Park and good lodging nearby. Two campgrounds are near the visitor center.
Capitol Reef National Park
The drive to Capitol Reef National Park follows along Route 12 and is very pretty.
The main feature in this park is the formation known as the "Waterpocket Fold"... an ancient wrinkle in the earth's crust.
No lodging is available in the Park. Find some motels about 12-15 miles (20-25 km) from the park entrance. Some camping is available in the park.
Natural Bridges National Monument
You can pass though Natural Bridges National Monument. A scenic drive will take you to overlooks to view each of the three bridges that were formed by meandering streams. Allow a couple of hours for this.
Lodging is about 30-40 miles away. There is a small campground available.
Monument Valley
You might want to make it a long day of driving and get to Monument Valley Tribal Park.
This huge valley has those iconic wild-west sandstone formations that you've seen in the movies... "The Mittens" are the most photographed, but there are other pinnacles and arches, bluffs and buttes.
You can get guided tours from Navajo tour operators.
There are accommodations in the area; the only one in the Tribal Park is the new hotel called The View.
Bring your camera.
The Grand Canyon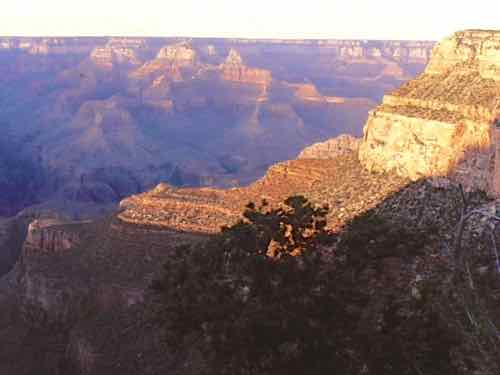 We're saving the most famous of the western National Parks for last. The Grand Canyon.
Clearly this is one Western National Park that you must see.
There is accommodation and camping available in the park and many options nearby with shuttles into the Park itself.
This is such a popular destination that driving is restricted in the park in some areas. Parking can be a nightmare, so just use the shuttles.
Complete The Loop

Another day of driving will have you back at Las Vegas.
By driving this loop instead of staying in town, you will have kept Las Vegas from getting too much of your money, and you'll be far richer in experiences...
...of the Western National Parks.
Happy travels... even if you don't travel the world... just remember that life is a journey... embrace and enjoy it! Judy and Mark
Curious about what else we've written about?  Search our site for a destination or travel tip.

But... We'd love to have you share this page or comment on it…
Thanks, Judy and Mark

International Travel Tips l Europe Travel Tips
Hotel and B&B Tips l Packing Lists
Go from Western National Parks to MouseToursTravels Home Page