Bryce Canyon National Park
Hoodoos!
COVID slowed us down for a couple of years, and now a few health issues challenge us.  We're still traveling if not writing about it quite so much. Our goal in 2022 was get to all seven continents in one year... and we did it.

Going forward health issues may not allow us to travel.  No one can take away those memories though.  We hope all of you are well and staying safe... and that you find some inspiration here for YOUR future travels. 

If you're touring the American West, Bryce Canyon National Park will have to be on your list of places to visit.
Has to be?  Well, it really is one of the great canyons that you shouldn't miss.  It's located in south western Utah.

And Bryce is a small National Park that is big on scenery...
...and often wins reviews from visitors as a favorite for its unique geology.
So what's unique about it? 
     Hoodoos 
They're everywhere you look. Do you know what hoodoos are?
What Are Hoodoos?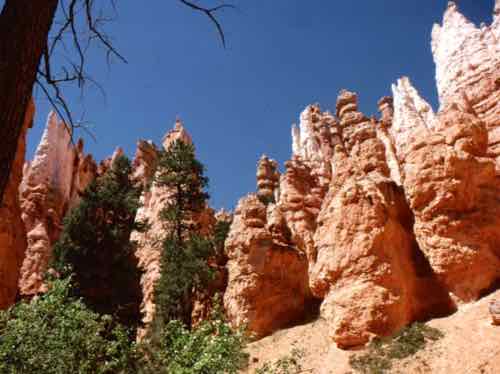 Wikipedia and the National Park Service describe them this way...
"A hoodoo is a tall thin spire of rock that protrudes from the bottom of an arid drainage basin or badland." 
Hard rock on top protects softer stone below from rain and erosion. 
What you end up with is pinnacles or spires of rock... but hoodoos come in a variety of shapes and sizes and thicknesses. 
It's the size and shape and color of the hoodoos that have visitors to Bryce Canyon National Park feel like they're visiting a fairy land. 
See The Canyon By Car and On Foot
You Can Start Your Tour From Your Car
The Park Service recommends starting at Rainbow Point in the south of the park.

From there you can look out over the whole park. 
Walk to Yovimpa Point Overlook and you can get a sense of the different colors that pepper the canyon.... 
          Pink Cliffs,
          Grey Cliffs,
          White Cliffs,
          Vermillion Cliffs and
          Chocolate Cliffs. 
Almost sounds like an ice cream sundae doesn't it?  You can sit and soak in this view all day long if you want...
But to really get a feel for the magic...
Hike Or Ride Horses Into The Canyon
If you are going to hike all day, be prepared. 
Wear good hiking shoes or boots. 
Carry plenty of water... this means one quart (1 liter) per person for every 2-3 hours you plan to be hiking. If in doubt, take more than you think you'll need. 
Parts of the park are at an elevation of over 9,000 feet (2774 meters). 
Hiking at this altitude will take a lot out of you if you're not used to it.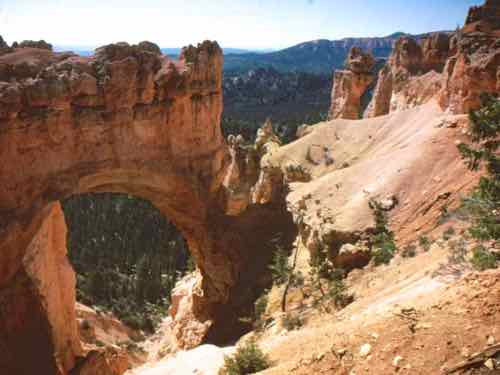 See The Canyon From The Top - The Rim Trail
You can hike the Rim Trail. 
If you do the whole trail it's 11 miles (17.7 km) round trip... but you can always just do part of it. 
It's considered easy to moderate because it is paved and fairly level.
You get great views down onto the hoodoos from here.
Hikes Into The Canyon Are Strenuous
The hikes that go down into the canyon are considered strenuous.
They are loop trails and range from 5 miles (8 km) to 8.5 miles (14.2 km).
The Fairyland and Peek-A-Boo Loops get you into the spectacular heart of the canyon and let you experience those hoodoos from below. (The Peek-A-Boo Loop is shared by the horse tours, and horses have the right of way.)

Wandering down among those hoodoos is definitely worth it.
We loved trying to name formations for ourselves, though the Park Service has come up with some pretty descriptive names.
Horse or Mule Tours Are Available
Ride a horse or mule into the canyon if you'd rather not hike.
There are 2 hour and 4 hour rides on that Peek-A-Boo trail. 

How To Get To Bryce Canyon National Park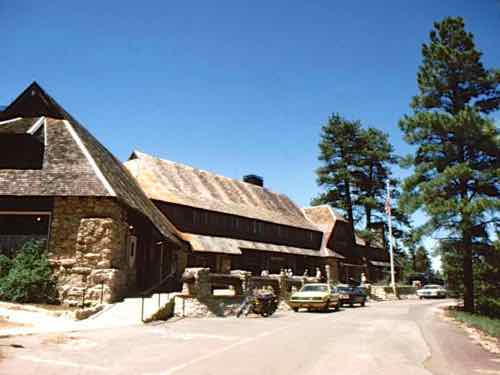 You can get to Bryce Canyon National Park driving from either Las Vegas, Nevada or Salt Lake City, Utah.
Both are about 270 miles (435 km) from the park.
Driving a loop from Las Vegas through several of the western national parks makes a great vacation. 
The park is open year round.
The Bryce Canyon Lodge is in the park on the rim, but it is only open from April thru October.
Load up your camera and plan your trip.
Whether you are driving to several of the western national parks or just planning to visit this one... Bryce Canyon National Park will have you snapping away...
Those hoodoos are so photogenic that they make everyone a good photographer.
Happy travels... even if you don't travel the world... just remember that life is a journey... embrace and enjoy it! Judy and Mark
Curious about what else we've written about?  Search our site for a destination or travel tip.

But... We'd love to have you share this page or comment on it…
Thanks, Judy and Mark

International Travel Tips
Go from Bryce Canyon National Park to MouseToursTravels Home Page