Grand Canyon Skywalk

For A Bird's Eye View Of The Canyon!
COVID slowed us down for a couple of years, and now a few health issues challenge us.  We're still traveling if not writing about it quite so much. Our goal in 2022 was get to all seven continents in one year... and we did it.

Going forward health issues may not allow us to travel.  No one can take away those memories though.  We hope all of you are well and staying safe... and that you find some inspiration here for YOUR future travels. 

Do you want to visit the Grand Canyon Skywalk? The Grand Canyon is a favorite scenic wonder for tourists from all over the world.
There are three areas you can visit to see the Canyon.


The South Rim is the most developed area and where most of the tourists have traditionally gone.
The South Rim is open all year, though some facilities may be closed in winter. 
The North Rim is your second choice.
It has fewer visitors and is closed to visitors in the winter.

Then There's The Grand Canyon Skywalk
The Grand Canyon Skywalk is located at the third point of access to the canyon... Grand Canyon West.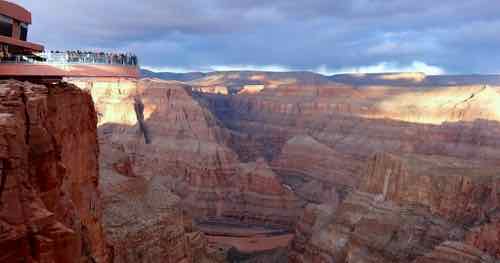 This is quite far from the other entrances.
The land here belongs to the Hualapai Nation Indian Tribe.
Years ago when we first saw pictures of the proposed bridge on the internet, we thought it was a hoax, but it is real.
It has been built, and it is operating.... and it is hugely popular.

Suspended Over The Grand Canyon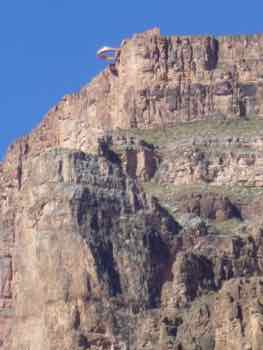 This well publicized glass-bottomed bridge sweeps out 70 feet (20 meters) over the canyon in a horseshoe shape....
It's suspended about 4,000 feet (1,220 meters) above the Colorado River.
If you think you might want to visit the Grand Canyon Skywalk for a once-in-a-lifetime opportunity to walk over the edge of the Grand Canyon...
You will have to plan for this because it is so far from the South Rim.
It's about 250 miles (400 km) by road from the South Rim Visitors Center.  
That's about a 5 hour drive.  
It's actually outside of the National Park.  Too far away for a quick day trip there.

Closer To Las Vegas Than The South Rim
Grand Canyon West and the Skywalk are actually closer to Las Vegas than to the South Rim.  
It's only 120 (190 km) miles from Las Vegas. 
You can get day tours to the Grand Canyon Skywalk from a number of tour operators out of Las Vegas.
Day Trip From Las Vegas
You can get day tours to the Grand Canyon Skywalk from a number of tour operators out of Las Vegas.

If You Drive Yourself, Check The Road Conditions
It takes about 2 1/2 hours to drive there from Las Vegas.
If you plan to drive yourself, check on current road conditions.  In the first several years, the last 18 miles (29 km) to the Skywalk were on unpaved and bumpy road.  This has been under development, so it may get easier to drive there.
You might be able to make it in a small car, but it is pretty rough.
If you are renting a car, we wouldn't advise taking that sedan on this road until it is developed.
It is not suitable for Recreational Vehicles (RVs) either.
If you are driving a small car or an RV, there is a "Park and Ride" shuttle service available at the Welcome Center. There is about a $10 fee for this shuttle.

Visitation Permits From The Hualapai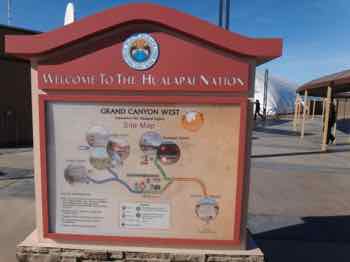 To experience the Skywalk, you must purchase a visitation permit and a package of activities from the Hualapai.
The Skywalk fee is in addition to one of the packages, so the minimum cost to visit is about $70.
They only allow 120 people on the Skywalk at any one time.
Access is first come, first served unless you have a reservation.
You will be provided with shoe covers which keep your shoes from scratching the glass... and also help keep you from slipping.
One thing you should know besides the high price of the tours is that no personal cameras are supposed to be allowed on the bridge... in case you drop your camera and damage the glass. Womens purses are also checked into lockers.  
(Since we were there, we've seen plenty of photos of people on the bridge... I think smart phones have changed this some.)
So if you want to walk OVER the Grand Canyon... visit the Grand Canyon Skywalk. Just know what to expect and be prepared.
Happy travels... even if you don't travel the world... just remember that life is a journey... embrace and enjoy it! Judy and Mark
Curious about what else we've written about?  Search our site for a destination or travel tip.

But... We'd love to have you share this page or comment on it…
Thanks, Judy and Mark