One List of Top Ten US Cities

But... Ahh... There Are So MANY Others

COVID slowed us down for a couple of years, and now a few health issues challenge us.  We're still traveling if not writing about it quite so much. Our goal in 2022 was get to all seven continents in one year... and we did it.

Going forward health issues may not allow us to travel.  No one can take away those memories though.  We hope all of you are well and staying safe... and that you find some inspiration here for YOUR future travels. 

Planning a trip to the US?  If you had to make a list of the top ten US cities to visit, what would they be?
Or if you're an American are you planning to see more of America what would your list be?

Now this ISN'T an easy list to make.
There are so many great places to visit in the US...
But there are some cities that are more popular with visitors.
After I wrote this, I had reservations... how can I tell you which cities you should visit? 
I'll just give you an overview of these for now.
Whether you are an American or a visitor from abroad, the first city that pops into your head is probably New York,...
Followed by maybe Los Angeles and San Francisco.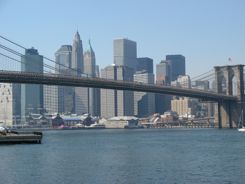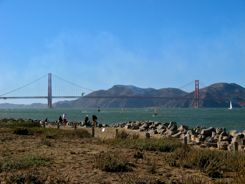 Those are all right up there in most top ten lists, and you should visit them, but there are others.
There are plenty of cities, large and small that are great to visit, but what would be our choices to include in a list of top ten US cities along with those three? It was hard to choose, but here is one list....
Boston, Massachusetts
This city is steeped in US history. Walk the Freedom Trail to see historic buildings like the Old North Church...
It was from the Old North Church that Paul Revere took his "midnight ride" crying the warning of the approach of the British during the US Revolutionary War...
As the poem goes, "...One if by land, and two if by sea; And I on the opposite shore will be, Ready to ride and spread the alarm....."
See Faneuil Hall. Eat in the Union Oyster House, Boston's oldest restaurant.
Visit the colleges: Harvard, Massachusetts Institute of Technology, and Boston College just to name a few.
Chicago, Illinois
Chicago has long been said to have an inferiority complex to New York, but it is a world class city.
There are fantastic museums, good restaurants, and you'll find cutting edge architecture.
It's right on Lake Michigan with a beautiful waterfront. Visit Millennium Park and Old Navy Pier.
Denver, Colorado
Denver is "the mile high city." It is situated in the Rocky Mountains.
You can visit to ski or snowboard at some of the famous resorts nearby or come to hike in the summer and enjoy the view.
Las Vegas, Nevada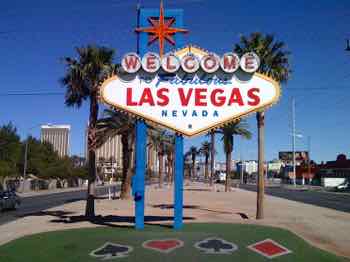 Las Vegas is a city with a reputation you've probably heard about.
Is it a good place for tourists?
That depends on what you want.
It's known for its gambling casinos and the world class entertainment they provide.
The casinos vie for visitors with over-the-top themes. Roller coasters on the tops of buildings, dancing water fountains, and of course LOTS of bright lights at night along the "Las Vegas Strip".
Miami Beach, Florida
Miami Beach is a draw summer and winter for sun and beach lovers.
Visit trendy South Beach, the oldest section of Miami for it's popular restaurants and vibrant nightlife.
Take a tour of the Art Deco District; the colors and decorations will amuse you.
Seattle, Washington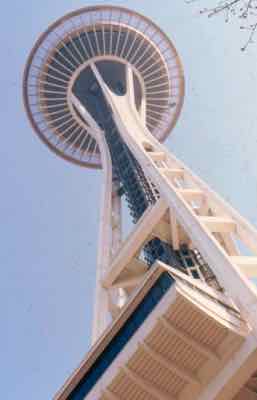 Seattle actually has many sunny days....
It does have a reputation for being rainy...
...But it's cloudy more than it's rainy. That makes for lots of greenery for hiking.
It's on Puget Sound, which makes it a great place to sail.
Visit Pike Place Market.
The Space Needle is left over from a 1962 World's Fair, but it has become a symbol of Seattle.
There is an observation deck and a Sky City restaurant for great views of Seattle, the Olympic Range and Cascade Mountains... and on a clear day Mount Rainier.
Washington DC, District of Columbia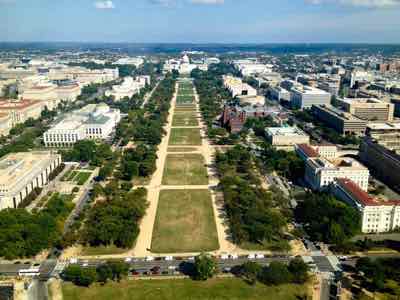 Washington DC is only last on our list of top ten US cities because we put it in alphabetical order.
As the nation's capital city, it offers The White House, the Congress Building, The Smithsonian Museums...
And all the memorials along The Mall..... The Jefferson Memorial, the Lincoln Memorial, and the Washington Monument, and others.
Which Top Ten US Cities?
So do plan a visit to New York or Los Angeles or San Francisco...
But consider one of these other top ten US cities for your visit....
Using either our list or your own.
Happy travels... even if you don't travel the world... just remember that life is a journey... embrace and enjoy it! Judy and Mark
Curious about what else we've written about?  Search our site for a destination or travel tip.

But... We'd love to have you share this page or comment on it…
Thanks, Judy and Mark

International Travel Tips l Europe Travel Tips l Travel In America
Hotel and B&B Tips l Packing Lists
Go from Top Ten US Cities to MouseToursTravels Home Page