Bethlehem

To See Manger Square, You Must Cross Borders
COVID slowed us down for a couple of years, and now a few health issues challenge us.  We're still traveling if not writing about it quite so much. Our goal in 2022 was get to all seven continents in one year... and we did it.

Going forward health issues may not allow us to travel.  No one can take away those memories though.  We hope all of you are well and staying safe... and that you find some inspiration here for YOUR future travels. 

"Is it hard to get to Bethlehem?
Aren't there checkpoints and border guards and all kinds of problems?"



When we went, we found it wasn't hard at all.  It's an easy day trip... half a day if time is short. 
And you can do it on your own. 


Bethlehem is only about 6 miles (10 km) from Jerusalem, but in some ways it might seem a world away...
...because this famous little town is in the Palestinian Territories.
About half of the residents are Muslims and half are Christians, though the number of Christians is falling.

Bethlehem Is In The Palestinian Territories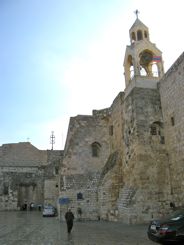 We had talked to people who went on tours to Israel, and they told us how the tour company had to change drivers at the border, and how they had to get special permission. So when we decided to go to Israel we wondered if we would be able to get to this Biblical town.
Let me tell you right from the start.... it was easy.
Our hotel had all of those glossy tour brochures that hotels provide, and we saw that we could take a day trip to Bethlehem for about US $70... each! That seemed a little steep for a half day trip to a city that was so close. But it did include a guide, and it was hassle free.
We like to be independent travelers, though, so what to do?
We stopped by the Tourist Information Office just inside the Jaffa Gate of Old Jerusalem, and the staff told us that we could easily take public transportation.

Taking "The Arab Bus"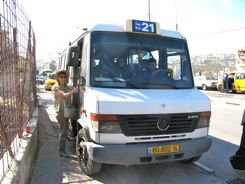 The Arab Bus... or the Blue Bus number 21 can be caught at the bus depot just outside the city walls near the Damascus gate.
This only costs about US$ 2.00 per person each way... quite a savings!
The buses run at frequent intervals carrying Palestinians into and out of Israel.

On the way back to Jerusalem, you have to go through an Israeli checkpoint, but they make it very easy for tourists. The size of the buses vary depending on the time of day, all the way from regular large buses to mini-van type buses.
Traveling through the countryside even for this short way, it all looks so... so biblical.

Taxi Or Walk Up To Manger Square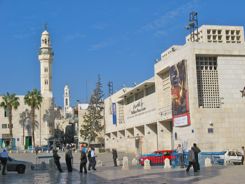 It's a bit of a walk uphill from where the bus line ends to the Manger Square and the Church of the Nativity.
We hired a driver for a nominal fee. You should bargain with them...,
...though we didn't bargain hard because there are not that many independent tourists, and we were happy enough with the price.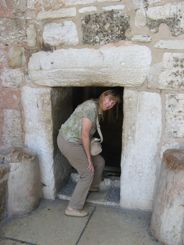 The Church of the Nativity marks the traditional place of Jesus' birth.
The entrance is by a low, unadorned door called the Door of Humility.
Underneath the alter is the Grotto of the Nativity.
A silver star in the floor marks the spot where Christ is believed to have been born.

Other Site Around Bethlehem

He took us to the Church of the Nativity, the Milk Grotto and the Shepherds' Fields and waited for us at each stop.... giving us as much time as we wanted.
The Shepherd's Fields have been identified since ancient times as where the shepherds were when they saw the Star of Nativity.
You Can Hire Local Guides There

You can also hire a local guide at the Church of the Nativity.
Official guides should have a badge.
We opted to visit the sights on our own with just our guidebook. There are other sights to see depending on how much time you have.

Whether you opt to take an organized tour, or see it independently, the little town of Bethlehem is easy to visit and well worth it.
Travel is illuminating. Surrender to its mysteries, share, learn, embrace and enjoy.

Happy travels... even if you don't travel the world... just remember that life is a journey... embrace and enjoy it! Judy and Mark
Curious about what else we've written about?  Search our site for a destination or travel tip.

But... We'd love to have you share this page or comment on it…
Thanks, Judy and Mark

Go to International Travel Tips l Europe Travel Tips
Hotel and B&B Tips l Packing Lists and Tips
Go to MouseToursTravels Home Page