California Big Sur Highway


Steep Cliffs, Crashing Waves, and Towering Redwoods
COVID slowed us down for a couple of years, and now a few health issues challenge us.  We're still traveling if not writing about it quite so much. Our goal in 2022 was get to all seven continents in one year... and we did it.

Going forward health issues may not allow us to travel.  No one can take away those memories though.  We hope all of you are well and staying safe... and that you find some inspiration here for YOUR future travels.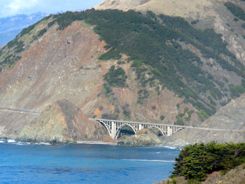 For a road trip full of visual highlights, drive California Big Sur Highway... the central part of California Highway 1.
The whole Pacific Coast Highway is dotted with names that show up on tourist's lists from all over the world.
...Find small towns to linger in...
...Parks and beaches to explore and enjoy.
To explore north and south of the Big Sur Highway
all the way from Los Angeles and San Francisco, see...

Pacific Coast Highway - Los Angeles to Cambria

     ...and...

CA Hwy 1 - Carmel to San Francisco.
The most popular section is the one we'll deal with here...
The California Big Sur Highway is the section of the Pacific Coast Highway from Cambria in the south to Carmel in the north.
Two Lanes, Curves, Bridges and the Pacific Ocean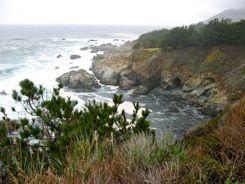 This 90 miles (140km) of highway packs a lot of visual punch. It compares with driving Italy's Amalfi Coast Road or Australia's Great Ocean Road.
When you drive California Big Sur Highway, you'll find you're on a two lane road that hugs the mountains with dense pine forests, stands of redwood trees, or California chaparral depending on where you are.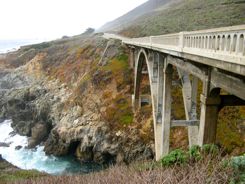 It clings to steep cliffs above the Pacific on the shoreline side.
It twists and turns and climbs over spectacular bridges that span precipitous canyons.
There is really no way to get lost, since you are pretty much caught between the mountains and the sea.
There are lookouts where you can pull off to admire the scenery.
Stop and look for birds and sea life. You might get lucky and spot a Sea Otter or a rare California Condor.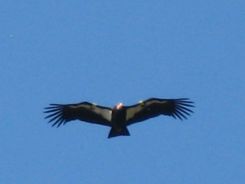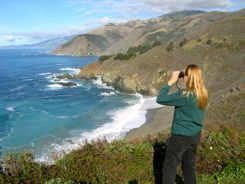 The Big Sur Highway Is Wild With Limited Restaurants
There are a limited number of places where you can stop to eat. 

Take a picnic if you want to enjoy the long wild stretch between services where you can find numerous state parks and beaches where you can enjoy an alfresco meal.
These are not the wide smooth beaches of Southern California... some require hikes to get to, others are secluded coves...
Cambria and Hearst Castle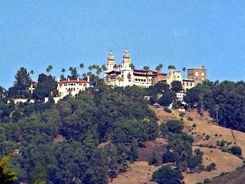 The little town of Cambria and Hearst Castle at San Simeon anchor this section of the Big Sur Highway to the south.
Once you leave Cambria, be sure you have enough gas...
...there is a long stretch of about 40 miles (65 km) where no gas is available.
Allow Plenty Of Time
90 miles (145 km) doesn't sound like it's too far, but you will only average about 30 miles a hour (50 km per hour) due to the traffic, the other gawkers, and the time you spend at scenic spots.
You'll go even slower if you have a passenger prone to motion sickness.
Big Sur and Carmel anchor this section of California Highway 1 to the north. If you're not making this part of a longer drive along the whole of Highway 1, you can drive it round trip in a day if you want to.
You can start the round trip from either Cambria or Carmel depending on whether you want to end up in San Francisco or Los Angeles.
If you are only driving one way, many guidebooks say you might want to make it from south to north. You'll be driving on the inside of the curves, and most guides say that the views are clearer toward the north.
That said, since we live close, we drive it both ways in a day or weekend trip, and it's still a very pretty drive heading south.
Check Weather and Road Conditions
The scenery of Big Sur is the main attraction for this part of your drive. In the spring, the wildflowers are spectacular.
Weather can be warm and sunny...
   ...or cold and foggy at any time of the year.
We encountered both on a December weekend.
Be sure to check on road conditions.
California Highway 1 is prone to landslides during the rainy season which is winter in California. So if you plan to drive California Big Sur Highway, you'll want to know if it is closed at certain times of the day for maintenance... or possibly even closed completely into spring if a slide was particularly bad.
Where To Stay
There are plenty of places to stay in the Cambria area and again in Carmel and Monterey.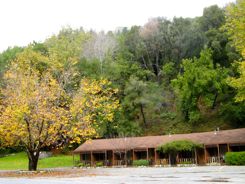 In between your options are limited though there are places to camp, a few modest and quirky hotels, and a couple of very high end places.
It's best to check into this before you start driving, and probably best to have a reservation.
One Way Car Rentals?
This is a popular drive for tourists from all over.  If you want to drive in only one direction, check around with different car rental companies and compare drop-off fees.
Whether you make it one way or round trip, if you drive California Big Sur Highway, you are in for a treat.
Happy travels... even if you don't travel the world... just remember that life is a journey... embrace and enjoy it! Judy and Mark
Curious about what else we've written about?  Search our site for a destination or travel tip.

But... We'd love to have you share this page or comment on it…
Thanks, Judy and Mark

Go to International Travel Tips l Europe Travel Tips
Hotel and B&B Tips l Packing Lists and Tips
Go from Big Sur Highway to MouseToursTravels Home Page