California Highway 1
Carmel to San Francisco
COVID slowed us down for a couple of years, and now a few health issues challenge us.  We're still traveling if not writing about it quite so much. Our goal in 2022 was get to all seven continents in one year... and we did it.

Going forward health issues may not allow us to travel.  No one can take away those memories though.  We hope all of you are well and staying safe... and that you find some inspiration here for YOUR future travels. 

California Highway 1, in the north, goes from Carmel to San Francisco along Monterey Bay, the Pacific Ocean and Half Moon Bay.
If you're driving the whole Los Angeles to San Francisco route, we really think you should take a few days and really enjoy this northern part.


The scenery is spectacular...
There are hidden beaches (with cold water!)
...and good hikes along the way.

You can drive it in one or two days or several days.
You may opt to spend the night in Carmel.

We've Broken It Down For You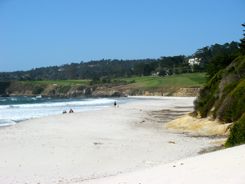 We'll concentrate on the northern section here...
Who wouldn't want to spend some time on this Carmel beach?  Or shopping in town?
To read about other sections of this popular route, see
Big Sur Highway - Cambria to Carmel
and
Pacific Coast Highway - Los Angeles to Cambria.

California Highway 1 For History and Fun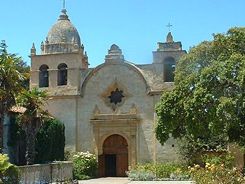 But back to this northern section...

Carmel-by-the-Sea is a quaint town known for expensive boutiques and art galleries.

And for a bit of history, don't overlook its beautiful Spanish Mission
You can easily linger a day or two here. There are LOTS of hotels and restaurants to tempt you.

Visit Point Lobos State Reserve and view sea otters, sea lions, and at the right times of the year, California Gray Whales migrating.
Golf Courses

Carmel is also home to some world famous golf courses... (And some not so famous.)  Even if you're not a golfer, you've probably heard of Pebble Beach. It's beautiful and expensive.
There is also the Links at Spanish Bay. Spyglass Hill, Poppy Hills and a host of others.
So you know the difference....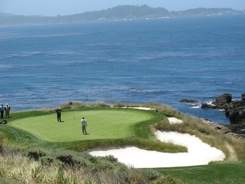 Pebble Beach Golf Links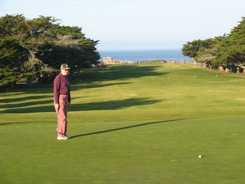 Pacific Grove Municipal Golf Links
Pacific Grove
Pacific Grove is a beautiful little town right next to Carmel which offers some great B&Bs.
If you want to play golf on Monterey Bay without the high prices of those famous Carmel golf courses, see if you can book a tee-off time at the Pacific Grove Municipal Golf Links. It's only 14 miles (22 km) from the center of Carmel. You'll get the backdrop of the Monterey Bay Coastline for a fraction of the cost. Not quite as spectacular as Pebble Beach, but beautiful all the same.
Only about 4 miles (6 km) north of Carmel and Pacific Grove, you'll come to Monterey.... But why not take the scenic route?
17 Mile Drive
Leave California Highway 1 for a bit... Pay the price of admission... (there is a fee of about $9.00 per car)... and drive the 17 Mile Drive (27 km - but the name IS 17 Mile Drive).
You'll drive past some of those famous golf courses, through forests of Monterey Pine and see the Lone Cypress tree on Cypress Point which is a favorite photo subject for tourists.
If you stop for lunch at one of the restaurants at Pebble Beach, Spanish Bay, Poppy Hills, or the Lodge, you may get your ticket validated and get your gate fee back. (You may be able to talk your way in without the fee if you tell the gate keeper that you will be stopping for lunch. It's worth a try.)
Monterey, Original Capital of the State
You can probably find cheaper motels and B&Bs in Monterey than in Carmel.
Visit Fisherman's Wharf. Most of it has been converted into touristy markets and restaurants, but it's worth a visit.
Take a day trip onto the bay to see whales... the boat companies list the species they've been seeing lately.
Stroll to the historic buildings nearby.
Monterey was the capital of the state of Alta California in Spanish and Mexican times and many of the buildings from that time have been restored.
You should also see Cannery Row... made famous by the John Steinbeck novel. This is a little further along the seafront. The old sardine packing plants have been turned into shops and restaurants...
It is here that you will find the Monterey Bay Aquarium. Its exhibit of California kelp forests is amazing. It's one of the largest and finest aquariums in the country and really shouldn't be missed.
Santa Cruz:
Beaches, Old Time Boardwalk, and Redwoods
Follow California Highway 1 around Monterey Bay to the surfing town of Santa Cruz. It's a laid back beach and university town... full of students and retirees.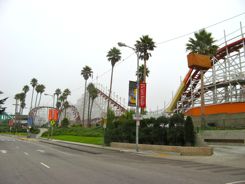 Visit the old fashion Santa Cruz Beach Boardwalk, eat salt water taffy, and ride the Giant Dipper, a wooden roller coaster built in 1924.
Remember these northern California beaches often have morning and evening fog... our "marine layer".
You'll want to have something warm to wear for those times... just in case.


There is a surfing museum along West Cliff Drive near the Beach Boardwalk and a great path to watch the surfers.
If you have time, you can take a side trip up Highway 9 to Henry Cowell State Park where you can walk among California's towering Coastal Redwoods.
Wild Ocean Views Near San Francisco
Head back to California Highway 1 and head north again... You pass coves with roaring surf, sandy beaches, agricultural towns and Pigeon Point Lighthouse.
You'll see more of those Redwoods on the hills that drop down to California Highway 1, and side roads that lead up to funky little wineries.

Half Moon Bay is lined by miles of sandy beaches. Then you pass through Pacifica, and you'll soon be in San Francisco, ready to take on this jewel of a city after a few relaxing days spent driving California Highway 1.
Happy travels... even if you don't travel the world... just remember that life is a journey... embrace and enjoy it! Judy and Mark
Curious about what else we've written about?  Search our site for a destination or travel tip.

But... We'd love to have you share this page or comment on it…
Thanks, Judy and Mark

Go to International Travel Tips l Europe Travel Tips
Hotel and B&B Tips l Packing Lists and Tips
Go from California Highway 1 to MouseToursTravels Home Page