Seattle

Queen of Washington State

COVID slowed us down for a couple of years, and now a few health issues challenge us.  We're still traveling if not writing about it quite so much. Our goal in 2022 was get to all seven continents in one year... and we did it.

Going forward health issues may not allow us to travel.  No one can take away those memories though.  We hope all of you are well and staying safe... and that you find some inspiration here for YOUR future travels. 

Seattle is known as "The Emerald City".
It sits on an isthmus between Puget Sound (an arm of the Pacific Ocean) and Lake Washington.
It's the cultural center of the Pacific Northwest. 
Water defines this city, and rain makes it the Emerald City...
...and it does have plenty of rain, but despite its reputation, it is more often cloudy than it is rainy....
In fact, it receives less rain that New York City and most east coast cities! There many nice days for exploring.

Seattle Is More Than Water and Trees

Seattle is the home of industries and entrepreneurs from Boeing Aircraft Corporation to Bill Gates and Microsoft to Starbucks coffee.
There are historic areas and plenty for tourists to do.

Pioneer Square

Pioneer Square is the city's very first neighborhood, covering about 20 square blocks of Victorian type architecture.
How do you want to see it?
There are guided walking tours, horse drawn buggy tours, or you can explore on your own. There are fine art galleries and boutique stores for shopping. It is a great area for nightlife.
There is an underground city beneath Pioneer Square.
After the Great Fire of 1889, the city was rebuilt over the top of the ashes.
Take a guided tour UNDER the city's sidewalks and streets.... through the hidden subterranean passages that once were the main roadways and storefronts of old downtown.
Pike Place Market and The Waterfront

Take the waterfront streetcar from Pioneer Square along the waterfront to Pike Place Market. These vintage streetcars take you to destinations in and near Pioneer Square.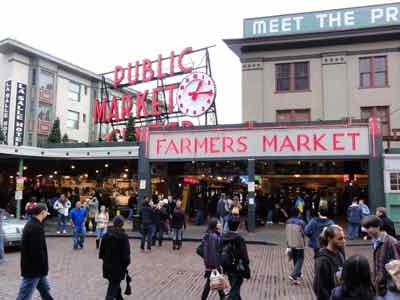 Pike Place Market is the oldest continually operating farmers market in the U.S. It's a high energy bazaar offering regional produce and seafood popular with tourists and locals alike. Watch fish fly at the Pike Place Fish Market.... and if you don't know what we mean by that, you need to experience it.
The Seattle Aquarium is on Pier 59 on the Waterfront, just down the hill from Pike Place Market. It is one of the stops on that Waterfront Streetcar.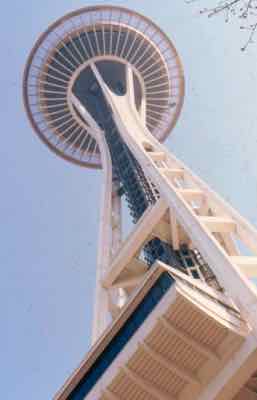 The Space Needle

Space Needle is in the heart of the city, in Seattle Center.
You can take a ride to the top just to enjoy the view, or you can dine at the Sky City Restaurant.
This restaurant revolves 360 degrees allowing you to take in the entire view are you enjoy a fine meal.
They are open for lunch and dinner. Brunch is served on weekends. (Note: The restaurant does have a dress code, so don't go TOO casual.)
Ride a monorail...
You can catch the privately run Seattle Monorail from downtown to the Space Needle.
Aviation Museums

The Museum of Flight is located south of downtown, at the south end of Boeing Field/King County Airport. The great gallery showcases 20 full-size aircraft from early models to the latest. Visit the Red Barn, full of exhibits showing early aircraft construction. This was the historic birthplace of the Boeing Airplane Company.
Take a tour of the Boeing Facility in Everett where they make 747, 767, 777, and 787 planes. You can call for a reservation. Tickets can be purchased at the facility if they are not fully booked. The guided tours take about 90 minutes.
If you're really interested in aircraft, the Museum of Flight operates its Restoration Center at Paine Field also in Everett, Washington. You can see approximately three dozen aircraft under restoration.
There are other aviation museums in the surrounding area.  We recently went to the Flying Heritage Collection in Everett.


Explore Beyond The City

Still have time left?
Go whale watching.
Visit the San Juan Islands.
Further afield you can explore Mount Rainier, Olympic National Park, North Cascades, and Mt. St. Helen's Volcanic Monument.
Mount Rainier is a landmark that floats over the area when the weather is clear...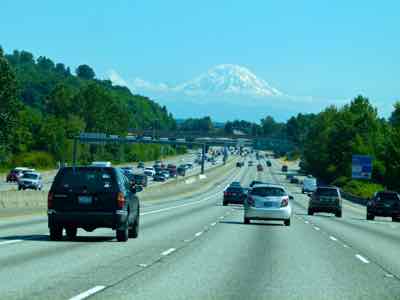 If the city has taken all of your time, you can see the mountains from the Space Needle and save the national parks for another visit.... because Seattle will call you back.
Happy travels... even if you don't travel the world... just remember that life is a journey... embrace and enjoy it! Judy and Mark
Curious about what else we've written about?  Search our site for a destination or travel tip.

But... We'd love to have you share this page or comment on it…
Thanks, Judy and Mark

International Travel Tips l Europe Travel Tips
Travel In America
Hotel and B&B Tips l Packing Lists
Go to MouseToursTravels Home Page