Shoulder Season
We love travel during shoulder seasons.
September, October, November...

They're all great for travel somewhere!
Sunny Fall days with colorful leaves in the north.
Spring is greening things up in the Southern Hemisphere.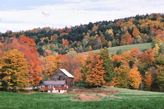 The weather can be changeable, so be sure to pack layers and some rain gear...

See all of our Packing Lists and Tips.

We have had a summer of home maintenance... We're READY for our next trip!  Vietnam and Cambodia, here we come.
Need Travel Ideas?
Things to See in Europe
Africa Calls!
Travel In America

Don't just dream about it...
Start making plans!
Custom Tour Planning List
International Travel Planning Tips
Foreign Is Fun - Not Scary!
Get Your Passports and Visas