Airplane Nuts in Oshkosh
Why Pilots and Friends Keep Going Back to Oshkosh
COVID slowed us down for a couple of years, and now a few health issues challenge us.  We're still traveling if not writing about it quite so much. Our goal in 2022 was get to all seven continents in one year... and we did it.

Going forward health issues may not allow us to travel.  No one can take away those memories though.  We hope all of you are well and staying safe... and that you find some inspiration here for YOUR future travels. 

Airplane nuts in Oshkosh?  I have to admit, this page belongs on our sister site, Antique-Airplanes.com, but you might want to know about it because we're always looking for reasons to travel... right?
The last week of July every year, pilots and airplane lovers from all over the world converge on this little town.
Its rural airport becomes the busiest airport in the world.
I know that's hard to believe... but just look at the tower. It even has a banner that says "World's Busiest Control Tower".
Can that be true?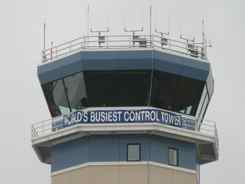 Yep, it is for that one week of the year when the EAA -- The Experimental Aircraft Association -- puts on its AirVenture.... billed as:

"The Greatest Aviation Celebration in the World."
And it IS a celebration....
If you love airplanes, you really should plan to make it to Oshkosh some day.
Why Is It So Busy?
It's busy because so may pilots love to fly in.  We fly commercially and drive in, but pilots always think it's a thrill to fly to Oshkosh.

Part of the fun of Oshkosh is to tune into the tower frequencies and listen as the controllers bring planes in to land.... two and three at a time  It sounds like chaos, but everything is always under control... if somewhat unconventionally.

The controllers don't want aircraft identification numbers... just colors and types... they are too busy. They just want to see you and get you down. Coming in on final, they want to make sure they have the right plane, so they'll ask you to "Rock your wings for Oshkosh".
There is a second runway and tower frequency they use for larger and faster planes, though the main runway sees plenty of those. Everywhere you look there is something taking off or landing.... there's always something flying.
A Little Bit of Everything
We love all this stuff... we go every few years.  They have everything from ultralights to antique airplanes to warbirds to jets.
Aviation fans are there because they can see all the newest planes available for private pilots.
They can check out restored antiques and "warbirds".
There are businesses selling corporate jets.
Vendors are selling airplanes parts and fun "extras" if you have your own plane.
We wrote about our Cub to Oshkosh adventure when we helped take a Piper J-3 Cub from California to Oshkosh. It took us a week to get it there... A Piper Cub doesn't fly very fast!  Everyone thought we were nuts sure!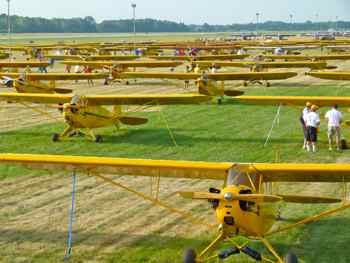 Where to Stay

If you want to stay in a hotel, you'd better have reservations well in advance... like a year ahead.... many of those airplane nuts in Oshkosh return every year.
Pilots can camp with their airplanes in a parking area adjacent to the AirVenture show grounds.
Pilots or anyone can stay in Camp Scholler adjacent to the airfield. There is a small store in the campground, and the EAA runs shuttles to grocery stores and nearby shopping malls for all possible needs.
There's lots of food available on the field including breakfast and dinner, and it's better than most airshow food.
Join Airplane Nuts In Oshkosh
So if you love airplanes, and you've always wanted to go... why don't you plan to get to the EAA AirVenture one year... you can be one of those airplane nuts in Oshkosh too.  You can read a whole lot more about antique airplanes in general, and Oshkosh... start at our Antique Airplanes page on Oshkosh.

Happy travels... even if you don't travel the world... just remember that life is a journey... embrace and enjoy it! Judy and Mark
Curious about what else we've written about?  Search our site for a destination or travel tip.

But... We'd love to have you share this page or comment on it…
Thanks, Judy and Mark

Return to International Travel Tips
Go from Airplane Nuts In Oshkosh to MouseToursTravels Home Page