Ready For YOUR Dream Trips?

What are your dream trips?  You must have a bucket list.  Have you figured out how you're going to get there?  How you can afford it?  We've found help for you.
You'll notice that we used the plural there.... trips.   Because we think once you see this, you're going to be vacationing more... and sooner.

You must know by now that we love to travel…. and we've done a lot of it…. I mean, that's why we have links to all seven continents on our home page….  

We've been to all seven continents!

We consider ourselves vacation advocates.  We've said often throughout the site that we want to help you plan and get ready to go on vacation…
But our idea of fun might not be your dream trip.  In fact, I know a lot of people who tell us that they would never want to go on some of the trips we take.  (My sister for one will never visit a jungle or Africa with me.)
Then we found WorldVentures and their DreamTrips, and we just had to tell you about it.  Take a look at some of the cool trips they offer.

Where Do You Want To Go?

Looking at our photos like these of places we've been and things we've seen makes us want to keep on traveling.  We're always dreaming.

Your Dream Trips Could Be DreamTrips...

In today's world, many people want or need to take shorter trips. 

And not everyone wants to just ramble and look for a place to stay at the end of the day.  We have one travel agent friend who gives me a bad time about trying to teach people to travel on their own…. he says it's bad for business…. and I always tell him that most people don't want to travel the way we do. 
All Planned and With Extras

So when a friend told us about the way they travel now, we thought it was something that we should check out so we could tell you about it...
And we just did.  Check out our New Orleans DreamTrip.  I can honestly advocate their slogan... 'You Should Be Here!"
What A Fun Time and what a bargain!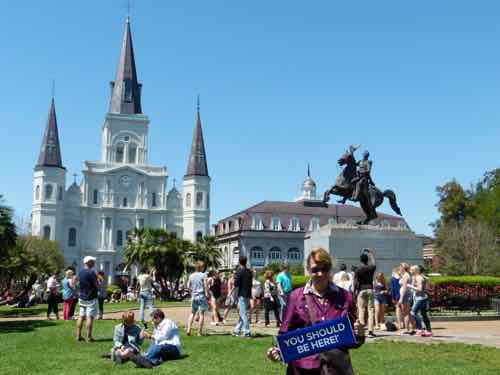 The company that provides these opportunities and so much more is WorldVentures. Take a look at what it's like to be a member of DreamTrips.

What they offer looked good to us.  It's going to change the way we travel too! 
The best way to learn about this is to check out their website and view it or read about it there...
...And then contact us if you have any questions.  We'll be pleased to answer them and help you with this.  We think you're gonna LOVE these DreamTrips!

Take A Look At The Videos

Watch these videos on our DreamTrips website a couple of times... it takes a while for it to sink in just how good this is. 

It Was Too Good Not To Join

Full disclosure here... we joined so we could experience it and tell you about it.  You're gonna want to refer your friends too, and you can do this as a member only.  Who wouldn't want to travel better and sooner?

We became Reps so we could make this a business... you have a choice.

So please, contact us.  We want to help you and answer your questions.
If this looks good to you, you can join the club simply by clicking the "Sign Up", "Register Now" or "Become A Member" link on any of those pages... Here it is again...  a DreamTrips referral just for you.  


As we said, we are affiliated with them, and we'd love to have the privilege of you joining with us.  We'd love to see you on a future trip!
Happy Travels, Judy and Mark

Return from Dream Trips to Home