Our International Travel Tips
A Potpourri of Travel Tips
We've Lived It, Learn From Our Adventures
MouseTours Travels started as a way for us to share...
share our international travel tips and write about our travels.
It's a fun way to share our adventures....
....And it helps pay for them to thanks to
Site Build It
.
More of you are finding us and reading our travel tips every day...
...and
we thank you for that.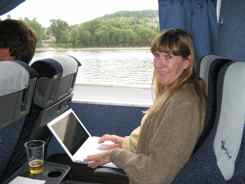 This last year I wrote more than ever partly because I was helping a friend with his Travel Article A Day website.
All of you are the beneficiaries of that endeavor because I managed to write so many more international travel tips for you. So travel along with us. Laugh at our mistakes and learn from them.
It's like we said on our homepage...
We hope our travel adventures and the international travel tips we share will inspire you to take your dream trip.
Some of these tips will be philosophical too... that goes along with our motto on our footer.... We believe that travel promotes understanding and understanding promotes peace. We feel we are ambassadors when we travel.... and you will be too.
We'll try to keep the tips grouped in categories so you can find the international travel tip that you need at the moment.
You'll find our international travel tips right below the Google Search. If you're looking for a specific topic, it might be faster and easier to use the search function to search our site. It has grown so much that sometimes we need to search our own website for a page! That's a wealth of world travel tips and information!!
Trip Planning

We always gather brochures and check websites when we're planning our trips. Here's a good place to get ideas...
Special Interest Vacations Around the World - Order FREE Travel Brochure!

What Kind of Vacation?
Eco-Travel

Passports and Visas and Documents
Our page on Travel Documents - What You Need To Know really will give you all the information on passports and visas. We cover U.S. Passport Cards.
And for our foreign visitors, we also cover what you need to do about getting a U.S. Travel Authorization.
Flight Tips
Packing Tips and Luggage Options
Airports and Airport Security Tips

Budget Travel Tips

Hotels and Other Accommodation Tips

Health Tips

Safety Tips

International Travel Tips for Drivers
International Destination Highlights

U.S. and North American Destination Highlights

Miscellaneous International Travel Tips

We hope you enjoy all of these international travel tips. More than that... we hope you've found several that have helped and inspired you.

Happy travels... even if you don't travel the world... just remember that life is a journey... embrace and enjoy it! Judy and Mark
Europe Travel Tips
The TravelArticleADay Backstory
Go from International Travel Tips to MouseToursTravels Home Page
Privacy and Legal Policy