Free Travel Search
Legitimate Search Engine Results for Your Travel Search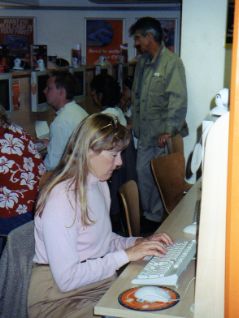 Welcome to MouseToursTravels free travel search.
With the growing number of pages on our site, not to mention the Web, we decided to add this convenient search page so you can find your way around.
Wondering where we talked about...
...Borneo
...or Brazil
...or health and vaccinations
...or travel stories?
Can't remember where you read about...
...malaria pills
...or Clan McEwen stories
...or African tented camps?
We hope MouseToursTravels gives you good travel tips, and we want to make sure you find them again.
Just use your mouse to find answers to your travel questions!
In the Search Box below, simply enter whatever you're looking for. For example, if you're searching for all the pages that mention "rental cars" on MouseToursTravels.com, you should enter rental car and click on the search button. We've set the default to search MouseToursTravels.com first to help you find what you saw on our site.
If you choose to leave us and go to the web, we hope you find us again. Why not our site so you can come back to read our stories or search for more info!
Ready for your Free Travel Search? 1-2-3... Go!
Please note that your search results page will have ads ABOVE the actual search results. Those are not from the site, but may be of interest, since Google targets the ads to your particular search.
Happy travels... even if you don't travel the world... just remember that life is a journey... embrace and enjoy it! Judy and Mark
Go to Mouse Site Map
MouseMap for Travel Stories
Return from Free Travel Search to MouseToursTravels Home Page