Israel On Your Own
Fun and Easy
"Can you travel in Israel without a tour?
Is it safe?"
We asked those questions too... Back when we visited, the short answer was Yes and Yes. But...
This is where you have to pay attention to world news, read travel advisories, and use your own judgement.
Tensions are high in the region, and you have to evaluate travel plans for yourself.
We'll tell you what we did. We had a week of vacation in November and things were quiet.


The Holy Land seemed like a good destination for that time of year...
...But we had those same questions our reader asked.
We put our travel trepidations aside, and we found ourselves on our way to Israel.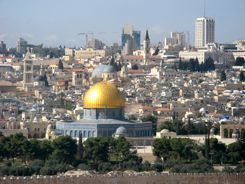 We did a fair amount of research on what we wanted to see, but we didn't want to make any reservations. I know that makes a lot of travelers crazy, but that's how we like to travel.
I was a little worried that this was the kind of place where you should have a little more structure, but it was easy to travel without reservations, and we didn't feel like we needed a tour in the Holy Land.
Anywhere you travel, it's true that you might learn more with a guide, but we've always liked exploring on our own.... Exploring on our own was not difficult in Israel.
That's not to say we didn't have help. We arrived at Tel Aviv airport in the middle of the afternoon. We stopped at the Israel Tourist Information Desk at the airport. It is inside of baggage claim. They were very helpful. Remember how we always tell you that the airport is your friend.... here's just another example!
We told them we needed a hotel in Jerusalem, and they called to get us a hotel in our price range in the area we wanted. We had done a little research on hotels, but their advice really helped.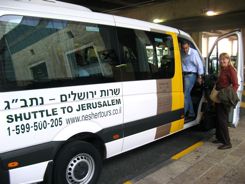 They gave us maps and confirmed that the best way to get to Jerusalem was on the Sherut... a shared "taxi" bus that takes you right to the door of your hotel for only about US $15 per person.
The Sheruts leave as soon as they have the 10 passengers that they hold. It's about an hour drive from the Tel Aviv airport to the center of Jerusalem.

We got a hotel with a view of the Jaffa Gate and less than a five minute walk away. We loved being that close... It gave us great access to the Old City night and day.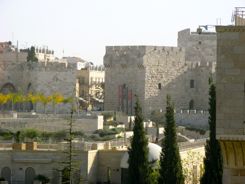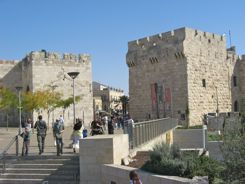 Another place we got lots of help was at the Israel Tourist Information Office right inside the Jaffa gate. They gave us good information about the times major sights were open to tourists. (The Temple Mount has very strict hours for tourist visits.) They also gave us great information on how to get to Bethlehem and Masada using public transportation. That saved us lots of money over taking tours. Again, you do sacrifice some of the knowledge that a guide can give you.... Only you can decide if you'd like a guide or you want to explore on your own with your guide book.
We found people of all faiths and ages friendly and helpful wherever we went. They made sure we found the right buses and pointed us in the right direction when we got turned around in the maze of streets in the Old City.
There are guest houses, hotels and restaurants all over. Most are outside of the Old City. Modern restaurants and shopping centers butt right up to the walls of the old city without taking away from the grandeur of the walls at all. The little restaurants inside the old city have lots of atmosphere and good food too.
We didn't visit Tel Aviv. We've heard it's a great beach town and fun to visit. It's easy to get into Tel Aviv by train or Sherut.
There is lots of security all over Israel. Just expect it... it keeps you secure. You might want to take a tour of the Holy Land, but Israel is easy to do on your own too. If that's how you like to travel... go for it!
Happy travels... even if you don't travel the world... just remember that life is a journey... embrace and enjoy it!   Judy and Mark
Curious about what else we've written about? Search our site for a destination or travel tip.
Go to International Travel Tips l Europe Travel Tips
Hotel and B&B Tips l Packing Lists and Tips
The Backstory on Travel Article A Day
Go from Israel On Your Own to MouseToursTravels Home Page
Privacy and Legal Policy
But... We'd love to have you share this page...
Use one of the handy "share this page" buttons below. Thanks, Judy and Mark