Travel Tips Galore!
Trip Planning... Packing Help...
Let's Get You Dreaming About Your Next Trip
Dreaming of travel is fun, but we want to take you beyond just dreaming.  Whether you call it a vacation or a holiday or the grand adventure of a lifetime, we want to help you....
         ...with planning your trip,
         ...with packing your luggage,
         ...with what to expect once you hit the road.  

It's a big world to explore.  Where to start?  Here!  We hope our adventures and the tips we share will inspire you to take your dream trip... anywhere in the world! 
Everyone likes our packing lists, but we want to help you enjoy the whole process from planning to playing on that journey, so let's not get ahead of ourselves!  Just click on any of the photos, and...
Let's Get Started!

Preparation Is Half The Fun...

Trip Planning
Where to Look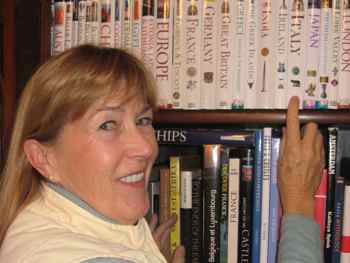 Passports and Visas
How To Get Them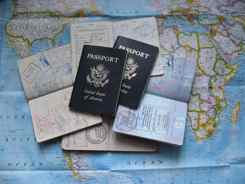 Checklists
For Worry Free Trips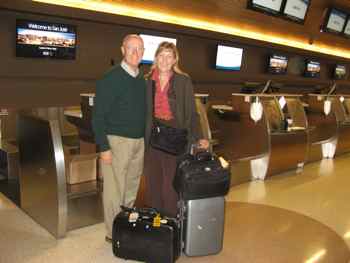 A note here:  We are not travel agents.  We just want to give you tips and advice.  See Why Mousetours? below...
OK... Once you've decided where you want to go and made your plans, there are things to think about to make the trip successful...

Travel Tips To Help You Get You On Your Way
Packing Tips
Carry-on only, even liquids
You CAN Fit It All In!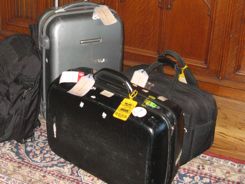 Health Tips
Shots, Pills, and the Water
What You Need To Know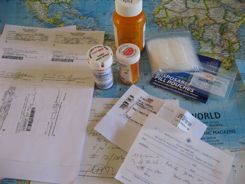 Airport Tips
Security, Arrival, Departure
What To Expect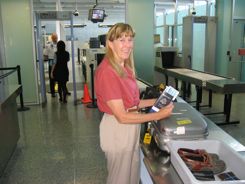 Want to see where we went in 2016? or 2015? or 2014? or 2013? or 2012? Or earlier? Look around, follow along and learn from our tips!
We started roaming the world as a team over 40 years ago when we got married. We've been fortunate enough to visit all seven continents since then, and we've loved every minute of it... and really... it IS easier than you think...

We'll show you how here! Please stay and explore with us.

Foreign Is Fun!

Foreign language!  Foreign Money!  Foreign Electricity!
How are you supposed to deal with it?  It's easy.  Just click on an image below. 
Read Our Stories to Take the Worry Away
   We'll show you that driving on foreign roads really isn't a problem. 
     A foreign hotel could very well be your castle for the night...
     And well, foreign toilets?  That's a matter we take up too.
Why MouseTours?

There's a story about how we got named...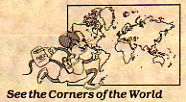 We even had cards made up with this little mouse scurrying around the world.
We're not travel agents, so we can't sell you a trip... we just like encouraging you and sharing our stories to show you can do it.

We love roaming the world.... We've visited 108 countries so far... and that experience enables us to give you good tips. 
So where have we been?

Destination Tips - All Seven Continents!
Of course you want to see some of those top destinations.  We did... but we'll give you tips on the corners of the world too.

Armchair Travelers and Adventure Planners Welcome!
Budget constraints have you just reading and dreaming for now? We've got stories to entertain and entice you to dream... perhaps for trips in the future.
Visit the world in cyberspace with us. We love the different cultures and foods and languages of the world. We want to help you feel comfortable out in the world or on our pages. To visit our site in another language, use the handy translator tool in the left hand column and read all of our pages more comfortably.

Need Help Planning and Packing NOW?
Friends always ask for tips on how we do it, so we'll try to answer some of the questions that come up to help with your trip planning:
Where to go? How to choose?
Do you need a tour? Would you prefer to be independent?
Can custom tour planning be affordable?
What to pack? (We really think it should be one carry-on each!)
Need packing tips to deal with today's security alerts?
What about safety and health? Do I need shots?
What are the people like?
What is a visa? Do I need one?
What about that foreign money? And the language?
Did I Mention Our Budget Tips?
We're not rugged adventurers with tons of money... just an ordinary couple with an ordinary income, but perhaps an extraordinary curiosity about the world. With a few budget tips, any holiday can become more affordable. If we can roam the world and have these adventures, anyone can. Our tips will help you.
Meet People and Help Make the World More Peaceful

The world is a wonderful place--more welcoming than you probably think it is if all you do is watch the news at home. If you're open to people, they will invite you into their homes and hearts. Let us be your cyberguides to the world. (The images below are not links... sorry!)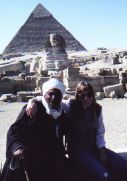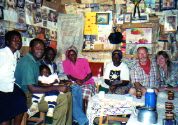 We write about where we've been and tips we've learned and suggestions as we experience and think of them... and there is still so much we want to tell you!
Do Like We Do -- Search For Our Answers and Stories
We keep adding international travel tips and stories about destinations, so the best way for you to find something on our site might just be to search for it and keep checking back! We've almost given up on our site maps.... and we just use search ourselves!
(Find our search box in the right column or at the bottom of the page.)


Travel Is A Quest and This Website Is A Joy
I've always said our globe trotting preparing us for something... and we're still searching for that, but... What are we doing while we're searching? We're visiting more countries and adding all the time to this website, so please come back and visit often.
This site has grown beyond our hopes and dreams for it... and all by following our passion. It just amazes me... but you, our visitors, inspire me to write more.
Grab your mouse and start clicking. Hopefully our globe-trotting tips and stories will inspire you.
Perhaps some of the destinations we've been to will click with you, and you'll be hooked, wanting to visit them for yourself.
Here is our mission... to inspire everyone to experience other countries and cultures... because we believe that travel promotes understanding and understanding promotes peace.

Join us,   Judy and Mark
Happy travels... even if you don't travel the world... just remember that life is a journey... embrace and enjoy it! Judy and Mark
Curious about what else we've written about?  Search our site for a destination or travel tip.

But... We'd love to have you share this page or comment on it…
Thanks, Judy and Mark