Mountain Gorillas in Rwanda
Are Mountain Gorillas on your
Africa Dream List
? They were on ours years ago. We went to Rwanda to see them.
Gorillas are found in Rwanda, Uganda and eastern Democratic Republic of Congo.
Maybe timing is everything, but it's never too late to try and see gorillas in their rainforest home.
Mountain Gorillas are endangered, and if tourists go to see them and help bolster local economies, the people who live near them will have more of an incentive to help save them.
We went several years ago. It was just after Diane Fossey died, but before the civil war, so the country was peaceful and the gorilla families we visited were well habituated to visitors.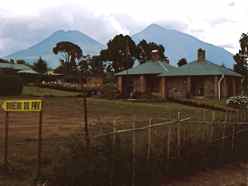 We flew to Kigali and drove to Ruhengeri.... so the very first morning we were up very early and at the gates of the Parc National des Volcans to sign in, pay our fees and be assigned a gorilla family to track.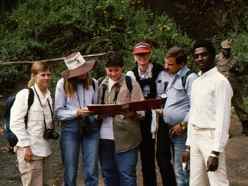 Back then, groups of six were allowed to visit the gorillas. We had to read two pages of gorilla etiquette so we would know now to act.... including don't stare at gorillas... hard to remember, when you see gorillas, you WANT to stare, they're so amazing! And of course another rule was don't touch the gorillas.



The hikes to find gorillas wherever you go looking for them are through rain forest.
Of course, you have to REACH the rain forest first..... habitat loss is one of the biggest threats to mountain gorillas.
You'll see in one of our photos that farmers have cleared the land and cultivation goes right up to the edge of the small protected area of rain forest that remains.

It was weird.... stepping across that boundary that first day... the path was suddenly thick with vegetation... much of it stinging nettle which seemed to sting through our clothing... and it was steep. The hike was difficult, and it seemed like we must be miles from civilization... not just a few yards! WE had good luck and found our first gorilla group in about an hour.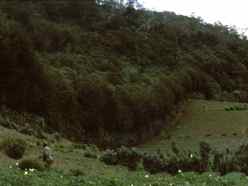 As we approached the gorillas, our guides made comforting "gorilla noises" to reassure them that friends were approaching. They either ignored us, or casually watched us back. Near the end of our hour with them, the silverback, Ndume, decided to move up the mountain, and as he did, HE touched US! Click here for the full story on our close encounter with a silverback gorilla.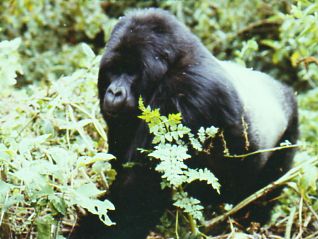 The second day, our hike was longer but easier. We visited a larger family of mountain gorillas with lots of babies. As the adults ate and rested, the baby gorillas played. It's very hard to look at those young ones and not think that we're very closely related, and we need to give them all the help and protection we can.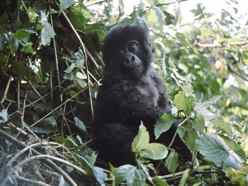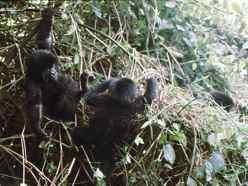 After we watched the baby gorillas for about a half hour, our guides instructed us to crawl through a hole in the vegetation. We weren't too sure about this... was it safe? Well, it WAS, but this family's silverback was lounging on the other side.... watching us crawl through. Maybe we're anthropomorphizing here, but we thought it was much to his amusement!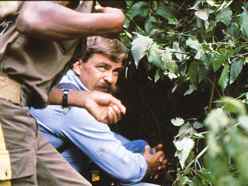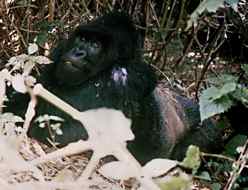 No matter which country you visit to find Mountain Gorilla, be prepared for a strenuous hike, heat, maybe rain, bugs.... and oh yea... those stinging nettles and tangly vines.... but just know that when you find those gorillas, it's definitely worth it. It'll be an experience you'll never forget, whether one touches you on the shoulder or not.

Read Mountain Gorilla Facts from Tropical Rainforest Animals.com If you'd like to read an amusing story about travels with a toy gorilla see our tale about Travels With the Monkey... I mean, with the Gorilla.
Happy travels... even if you don't travel the world... just remember that life is a journey... embrace and enjoy it!   Judy and Mark


Africa Dream List
African Tented Camps
Custom Tour Planning List
OUR Silverback Gorilla
Malaria Pills?
Do I need SHOTS?
Is the Water Safe?
Timbuktu and Dogon Country
Pepto-Bismol
Go from Mountain Gorillas to MouseToursTravels Home Page