Share Your Clan MacEwan Stories
Or Clan MacEwen or.....
"I love these Clan MacEwan stories.
I just read your story about your Scottish escapade at the Castle McEwen.
I am a Scot and a McEwan...
Thank you for bringing back some happy memories.... John"
Do you have Clan MacEwan stories? Stories about Scotland?
"Cousin" John and others have shared stories, and you can read them below the submission box...
But hey "Cousins"... Once you've read those stories, use our handy submission box to tell us YOUR story. It's easy. Read on for ideas.
Want to tell us your story before you read those others? Jump right to it... Click here to tell us your story right now!


Do you have a story about your branch of the family? Have you been to a "Clan Gathering" or Scottish Games near your home? Have you seen them in Scotland? Have you been to Loch Fyne? The Castle? If you share your information, we'll all know a little more!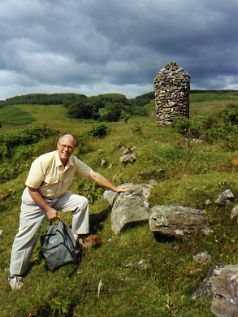 We told you one of our clan stories...
See Mark finding the Castle MacEwen? What's left of it anyway.
Don't be shy.... Do you have a clan story you love to tell?
We'll take you straight below again to that submission box where you can write your story and share it.
We don't claim to be experts on Clan history or lore. There are plenty of web sites that go into that.
We just want to hear what you have to say.


We have another story we call our "Welcome Home". It's not about McEwens directly, but it is about the Isle of Skye in Scotland.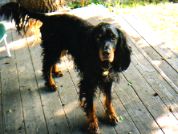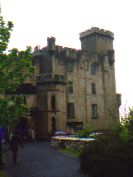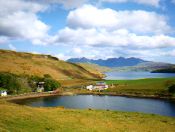 In the wee book we bought about Scottish Clans, we found the clan spelled MacEwan and MacEwen.... The sign on the castle cairn is spelled MacEwen. The beer we love in Scotland is spelled McEwan's.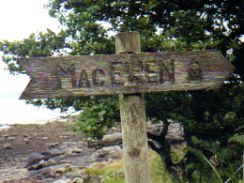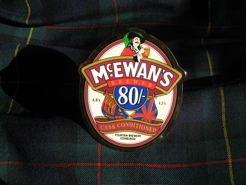 So is it Mac or Mc.... and followed by what? We've seen MacEwan and McEwen -- also McEuen, McKeown, Ewing and the list goes on and on.
Near as we can tell, the clan name comes from the Gaelic MacEoghainn for goodness sake... no wonder clerks and scribes had trouble figuring out how to write it. The variety is due to the fact that long ago most people were illiterate, so when names were recorded, they would be spelled phonetically.
Our spelling is one of the "different" ones; yours may be too, but we're sure we're all related. Our family lore is that our different spelling was due to a "black sheep" in the family, but it's probably because of that phonetic spelling when our ancestor came through Ellis Island.
So do you have stories about Loch Fyne, or Otter Ferry or Kilfinan?
      Or the Cowal Peninsula or Argyll?
      Or clan gatherings or bits of history?
      Or stories about related Clans?
      Or just stories to share about Scotland?

We think it would be fun to gather Clan MacEwan stories for all of us to read. We'd love to hear them and create pages for sharing. We have another page for other travel stories if you have a story from somewhere else in the world you'd like to share. Keep reading and you'll see how easy this can be.
If you want to read about a Clan organization, check The Clan MacEwen. And for a bit of research by a Clan member, go to Jim's Clan McEwen Research.
We've put up a new page you might want to try if you're looking for family connection.... Find Other McEwens.
Castle Visit? Clan Gathering? Clan history?
Tell Your Story!
Have you visited the Castle MacEwen? Been to a Clan McEwan Gathering in Scotland... or elsewhere? Do you have information you'd like to share? Well.... Here's your chance... Share it!
Clan McEwen Stories Others Have Shared
Click below to see stories about the Clan McEwen from other visitors to this page...

McCowan (McQuown)

Us McCowans used to spell our name McQuown. However, we pronounced McQuown as Mc-Cow-an. My earliest ancestor is a Laurence McQuown (b. abt. 1770 and …
Aussie goes to Scotland

It is Christmas Eve 2010 and we set out from our Village of Culross near Stirling at 9.15 am and it is about -5 and has been snowing for days. We rang …
Small World

Hello my name is William McEwan, my fathers name is William McEwan, and my eldest son's name is... yes, you guessed it, William McEwan. (It's a family/Scottish …
I flourish again!

My clan journey is just beginning. My great grandmother was a McKewin, whose father John was born in Northern Ireland. I am sure though (I can feel it …
Our Clan

I have just read your story about your Scottish escapade at the Castle McEwen, and it brought a smile to my face. I am a Scot and a McEwan to boot (Yet …
Clan MacEwen Western North America

The Clan MacEwen is organized in the Western region of the U.S. I wanted to announce that and get the word out. I wrote to you sometime back to let …
My Clan McEwen Research

You ask for Clan McEwen stories. I enjoyed what I found on your website, so here is my clan story and some research. My mother was Marion McEwen. Her …
Same Clan - Another Spelling - We're McQuown

We too are part of Clan MacEwen, but we are original spellers so we are the McQuown family... still same pronounciation. We came from Scotland to Virginia …
A Widow's Pension
and The Civil War
A Clan McEwan Story Not rated yet
John McEwan born in 1833 was a sober man. He was born in Blackford, Perthshire. In 1857, along with his brother Peter, John set sail on the Cultivator …
What's in a name???? That depends on if it's yours.... Not rated yet
I was born with the last name of Sapp and carry it to this day. However; that's thanks to a house fire that claimed the lives of my great grandfather …
Campbell marries McCune (MacEwan) Not rated yet
Reading the history of Clans MacEwan and the Campbells I felt compelled to add ours which includes my Great,Great,Great,Great Grandfather Dugal Campbell …
Wedding in Scotland Not rated yet
In 1995 while I was working for the US Navy in England one of my employees was returning to Scotland to get married. I took a three day weekend to drive …
Lucy McEwen -- Finding Myself Not rated yet
I always knew my name was important, in some little way, but never found answers... until a few years ago when I put McEwen in a search on the web. …
Now wasn't that simple? We all thank you!
Reviresco! ...And Happy travels... even if you don't travel the world... just remember that life is a journey... embrace and enjoy it.   Judy and Mark
Go from Clan MacEwan Stories to finding the Castle MacEwen.
Isle of Skye Scotland Welcome
Go to Mouse Travel Stories
Go from Clan MacEwan Stories to MouseToursTravels Home Page