Foreign Toilets... Yea...
Some Really Seem Foreign!
Foreign toilets....
Now here's a part of travel you might not stop to think about.
Truthfully, if you're traveling domestically in the US, you probably don't need to worry too much about toilets.
But if you're traveling internationally, you're probably going to run into a surprise or two.
Talk to people who have been traveling internationally for a while, and they're bound to have one or two amusing toilet stories.
If you're going to Europe, most of the time you will find toilets that are pretty much like ours. It's just better to say you need the toilet or the WC (for water closet). If you say you need to find a bathroom, they'll think you want a bath or shower!
Even in Europe, if you get way out into the countryside, it's just possible that you'll run into some that are more porcelain footprints with a hole. Seasoned travelers often say "Western style" and "Eastern Style" to differentiate them, but you can run into either anywhere in the world. You won't always have that "throne" so just make up your mind that you can deal with foreign toilets.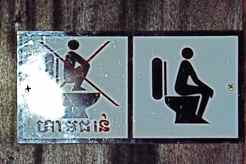 You'll even find that where there IS a "Western Style" toilet, the locals aren't used to it, and THEY will need an explanation on how to use it.
We found one in Cambodia near Angkor Wat with an explanation for locals that we just had to take a picture of.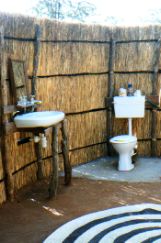 It always pays to have some tissues or toilet paper in your pocket. Even if you find a toilet that has a TP dispenser, it could be empty.
In more rural areas and more undeveloped counties, TP might clog up the plumbing. In places like that you'll see wastebaskets with dirty paper... put yours there too.
You might even find a "western style" toilet in remote areas, like these in tented camps in Africa. It's a luxury to have that throne, but the plumbing is fragile, so don't plug it up.


Finding a public toilet can be harder abroad than it is in the US. If you're out wandering the street, look for train stations or department stores. If there is a US style fast-food restaurant, you can find a toilet inside. Big hotels will have a WC tucked away in the lobby somewhere, and they are reliable for having TP. You can find one in restaurants too. If you're not a customer, ask politely, most of the time they will let you use their WCs. Never leave a museum without going - even if you don't need to. Who knows when you'll find the next one?
Many big European cities have coin operated "toilet booths" on street corners. Public toilets often are pay toilets. Carry small change to pay for them. Some will be coin operated on the door, others will have attendants sitting in the door. Even if they don't insist on you paying when you go in, it's polite to leave a small tip... it's usually only the equivalent of about 25 US cents. Don't expect them to have change... they might, or they might just keep the change if you don't have anything small enough. It's another way for them to make a little money.... So plan ahead -- don't give away all of your "little money". It'll come in handy.
Get used to occasionally having women cleaners in the Men's rooms and sometimes men attendants in the Women's room. Lots of toilet stories come from these encounters, but they're used to it, so you might as well just get comfortable with it too.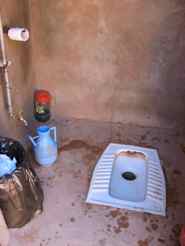 When you get beyond Europe, you'll run into more and more of those "Eastern Style" porcelain holes-in-the-ground. Like the foreign toilet we had at our Bedouin Camp in Wadi Rum Jordan.
Some foreign toilets will even be just that -- holes in the ground. Or something like the arrangement we found when we were at the Potala in Tibet and asked to use the WC.... The ladies room was over a deep pit with two big parallel logs that we all could balance on and use... communally! Sure wouldn't want to lose your balance there!!! At least the men's room was separate!

I remember one friend who encountered the old hole-in-the-ground type when we were in Africa. She opened the door then looked at us and said, "Which way do I aim?" At least she was a good sport about it!
OK, OK... if you've gotta go, you've gotta go. Just know you're going to run into SOME foreign toilets that are way different than you're used to.... deal with it, and you'll come home with some toilet stories of your own.
Happy travels... even if you don't travel the world... just remember that life is a journey... embrace and enjoy it! Judy and Mark
Return from Foreign Toilets to International Travel Health Tips
Go from Foreign Toilets to MouseToursTravels Home Page
Privacy and Legal Policy
Curious about what else we've written about? Search our site for a destination or travel tip.