Your Packing List - What You Need
It Will Be Different For Different Climates
A packing list will help when you're getting ready to pack for your trip. What you need to take with you will depend on your destination and travel style.
You'll need different things for a safari than you will for a cruise.
What you pack for Antarctica will be different than what you will take to Hawaii.
Are you going to a health spa? A dude ranch? On a diving trip? A driving trip abroad?
All of those things will affect how you pack. We have lists for those below... and all kinds of tips about packing and luggage.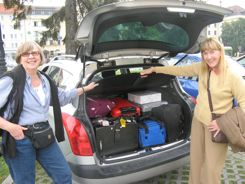 We always start with our basic list, then fine tune it for our current destination.
It takes some planning to pack well... there are so many things to consider....
today's security alerts...

and baggage fees too.
If you're going to travel with carry-on luggage, you need to think about...
What you can fit in that plastic bag?

How do you pack your cosmetics?

Your medications?
Packing Lists
Basic Packing List - This is where we start for every trip. You can travel almost anywhere for two weeks to two months if you just tweak this list sensibly.

Packing For A Tropical Vacation - What we pack for warm and humid weather... whether we're scuba diving, hiking rain forests or relaxing on a beach.

What To Pack For Cold Weather - A cruise to Antarctica tested our packing skills the most. Cold weather does require more and heavier clothes, but you can still keep it to a minimum.

Mixed Weather - We Have A List For That - Shoulder season is when we love to travel, and that can mean warm AND cold weather. You can still manage with only carry-on luggage if you plan for layers.

Need a New Bag? Get up to 70% Off Top Brands at eBags!
Still need to book a flight or hotel? Remember there are
No Expedia Change or Cancel fees on hotels, cruises, cars and more!
To make things easier for you, we've compiled a few of our packing guides:
Packing Basics
Luggage
Packing for Airport Security
Electronics
Packing Medication
These are all just guides. Use them to make your own list. Lists help you stay organized. You'll worry less that you might forget something important.
Even if you do forget something, just remember that you can probably get it almost anywhere in the world.
Happy travels... even if you don't travel the world... just remember that life is a journey... embrace and enjoy it!   Judy and Mark


Go from Packing List to MouseToursTravels Home Page
Privacy and Legal Policy
Curious about what else we've written about? Search our site for a destination or travel tip.