Tips to Prevent Lost Luggage
Common Sense Tips Some People Forget
YOU need to take some measures to help prevent lost luggage on your trip. "But what can I do", you ask? Read on...
Lost luggage is a nightmare you really don't want to deal with when you're starting your long awaited holiday.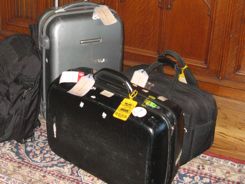 The absolute best way to prevent lost luggage is to carry it on. It's also a way to save money on domestic flights since most airlines now charge to check bags.
We've always advocated that you really don't need to travel with more than one bag each, but you have to plan for this and have the discipline to avoid that "just in case" syndrome.
If you must check your luggage, there are some things that you can do to help make sure it arrives with you, or that you will at least be able to survive until it is reunited with you.
Survive without your luggage?
Yes, you can if you must. First of all when you're packing, pack as though your checked luggage will be lost. Here are some things that should never go in checked luggage...
Don't pack expensive or hard to replace items in your checked bag. Jewelry, cameras, and computers go in your carry-on luggage. It's better not to travel with expensive jewelry in the first place. No need to call attention to yourself.

Always put prescriptions and other necessary medications in carry-ons... You need them with you to stay healthy

Your cash, credit cards, and travel documents should be with you also, either in your carry-on bag, or when you're not using them, in a safe place like in a money belt.
Now to prevent lost luggage...
One good tip is to get to the airport early....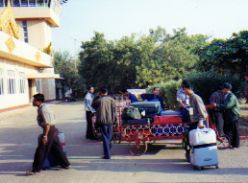 That gives baggage handlers more time to route your luggage to the proper plane.
If you arrive just at cut-off time at the ticket counter, you may be able to catch your flight, but you've made it more difficult for your bag to travel with you.


Remember, your bag does go through screening once it's checked.
There are some airports where you will be asked to take your checked bags to security, but this often takes place behind the scenes. Your bag goes off on the conveyor belt to a screening point. It probably travels along with luggage from other airlines.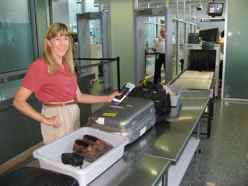 You're used to seeing security screeners in the airport security line, but they work in back rooms too. When checked luggage comes through, it is screened before it is loaded onto your plane. That's the TSA in the U.S. or some government agency abroad. If they think your bag needs extra screening, it may not make it to the plane in time if you've checked it at the last minute.
The more time you give the screeners and baggage handlers, the more time they have to get your bag to the right airline and the right aircraft... so it will arrive when you do. Contrary to what you might think, those airlines DO want to prevent lost luggage too!
Tags, tags, tags...
Make sure all of your luggage has the proper identification.
Luggage name tags are required for all bags whether they are to be checked or carried on. You can put a tag of your own on your bag or write your identification on one of those paper tags that airlines supply.
Either of these can get torn off as checked bags are moving up and down conveyor belts in the airport, so to make sure that airline agents can identify your bag for you should it be lost, it's a good idea to put your name, address and phone number inside the bag as well.
If your bags are locked... it should be with a TSA or government approved lock that they can open. They can and will break locks to check inside if they need to.
We put a couple of identification tags on each of our bags.... colorful ones with strong bands to attach them. If old tags look like the plastic attachments are cracked or frayed, replace them... those are the ones that are apt to break.
Some luggage has built in slots to put your name and address in... use them.
With all exterior tags, some expert recommend turning your address and contact information upside down or hiding it with a cover so potential thieves won't know that you are away from home. Overkill? Maybe, but why offer temptation.
So far in all of our travels, we've been able to prevent lost luggage for all but two days on one trip. We write our name in permanent markers on the inside of the suitcase itself... even our carry on bags.
If you are just starting your trip, a copy of your itinerary with phone contacts can help get your bag to you on the road. Slip a copy of your itinerary (if you know where you're going to be staying) inside of one of those tags outside of your luggage too. If they can find you, they can get it to you and prevent lost luggage.
Sometimes Carry-on Get Checked Anyway!
There is no way to completely prevent lost luggage, but if you use these few common sense tips, you have a better chance of getting your luggage back quickly, and having a fine time while you're without it.
Happy travels... even if you don't travel the world... just remember that life is a journey... embrace and enjoy it!   Judy and Mark
Curious about what else we've written about besides Prevent Lost Luggage? Search our site for a destination or travel tip.
Go to International Travel Tips l Europe Travel Tips
Hotel and B&B Tips l Packing Lists and Tips
The Backstory on Travel Article A Day
Go from Prevent Lost Luggage to MouseToursTravels Home Page
Privacy and Legal Policy
But... We'd love to have you share this Prevent Lost Luggage page...
Use one of the handy "share this page" buttons below. Thanks, Judy and Mark