Packing Right For Travel
Not An Exact Science
Packing right for your trip isn't hard...
But don't worry if you pack wrong... as long as you pack light!
Packing right... that's what everyone worries about isn't it? Especially with today's airline fees for checking luggage, you want to pack efficiently. But what if you pack WRONG? About the only way we think you can pack wrong is to pack way too much. When you're traveling, you're moving around, and who wants to shlep mounds of luggage from place to place?
We've got lots of pages with tips on packing right for different situations... on how to pack in general, and how to pack for hot weather, cold weather or most things in between. You can find links to all of our packing tips in the right hand column under "Navigate Our Site."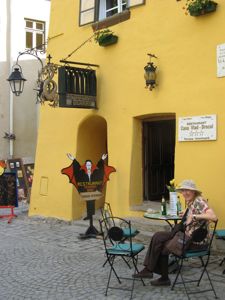 Still, even we find that sometimes we packed wrong.... but since we've packed efficiently, we don't worry about it.
Case in point, a recent trip to Romania and Bulgaria. We had been following the weather for a couple of weeks before we left in May.... it was just a little chilly, and we planned to spend some time in the Carpathian Mountains and way in the north visiting the painted churches of Moldavia.
We knew it could get warm in May too, especially along the Black Sea and in Dracula country... so for this trip, we used our mixed weather packing list...
But...
The day we arrived, their typical spring weather arrived, and it turned hot. I ended up only wearing my short sleeved blouses, occasionally adding a light layer on top. The long sleeved blouses and the wool pull over sweater never came out of the suitcase!
We didn't worry that we had packed wrong! We had everything we needed... we just wore everything a little more often than we would have if we HAD run into cooler weather part of the time. That's exactly what happened on a May trip to the Baltics... using that mixed weather packing list had us packing right for both hot and cold weather.
We like to be prepared.... but don't fall into the trap of overpacking "just in case." We still had everything in only one carry-on each... and even though we didn't wear half of what we took, we were still packing right for the destination at that time of year.
Happy travels... even if you don't travel the world... just remember that life is a journey... embrace and enjoy it! Judy and Mark
Curious about what else we've written about? Search our site for a destination or travel tip.
Go to International Travel Tips l Europe Travel Tips
Hotel and B&B Tips l Packing Lists and Tips
Go from Packing Right to MouseToursTravels Home Page
Privacy and Legal Policy
But... We'd love to have you share this page...
Use one of the handy "share this page" buttons below. Thanks, Judy and Mark