New Orleans DreamTrip 

Everything DreamTrips Promised
This New Orleans DreamTrip looked like a fun destination to see if this new travel club could really deliver what they promise.
Did they provide good value?
Oh Yea…
The hotel alone was cheaper than we could have arranged on our own.

Were the excursions fun and well organized… yes.

Was there enough free time… again yes.

Would we do it again…. you bet we will!


New Orleans DreamTrip A Great Weekend
New Orleans is the kind of city where you can spend days and days, but you can get a real taste of the Crescent City over a long weekend like this.
This particular New Orleans DreamTrip started with a welcome cocktail party.... then... 
It took us behind the scenes for Mardi Gras floats with lessons in mask making. 
We were transported across the mighty Mississippi to see the city light up from Algiers Point
And we were treated to songs by a musician who did a great job with Louis Armstrong songs in one of the French Quarter courtyards.

And we should mention that kids are more than welcome on these DreamTrips. 
That really made us want to tell people "You should be here…"  Like this: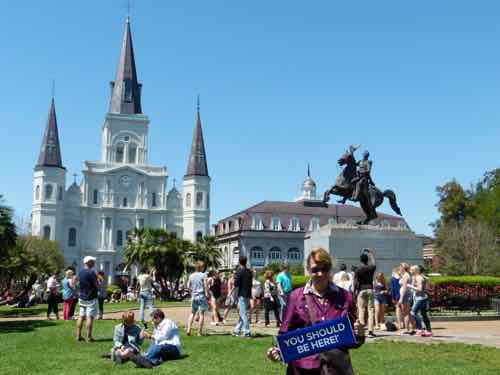 There are other New Orleans DreamTrips that focus on food or jazz or history… or Halloween.  Sounds like fun doesn't it?  That's what DreamTrips are all about… fun and vacationing sooner. 
Check out what it means to be a member of DreamTrips.


Sights Around New Orleans

Mardi Gras World was fun.  See the street cars that run on Canal Street.  Ride a real steamboat, the Natchez.  Our Captain assured us it was the fasted steamboat on the Mississippi... not that your cruise will be all that fast!
There are many historic houses and museums to visit.  Sit for a while in Jackson Square in front of St. Louis Cathedral.

At least once in your life you should stop at the Cafe de Monde and have coffee and beignets.  This is such a tradition it is as much a tourist sight as it is a food venue.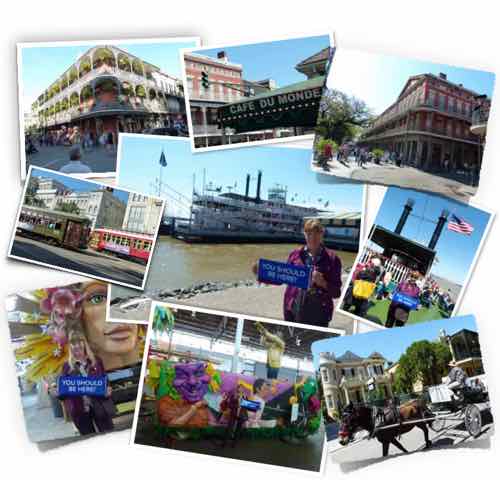 Street Life and Night Life

We went straight to the Rock 'N' Bowl the first night we arrived to hear some Zydeco. 
There is music everywhere in New Orleans… day and night… delivered by serious musicians, street musicians, and sometimes by some of the colorful characters that you'll find in the city.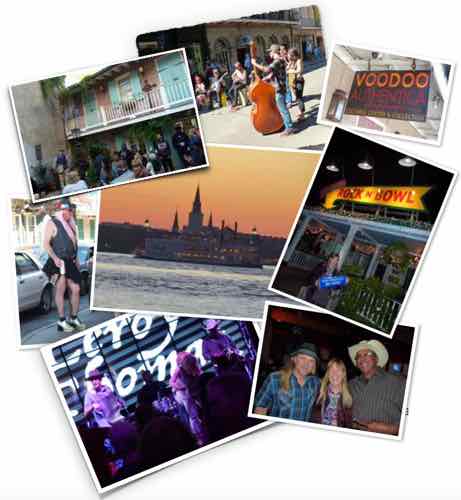 New Orleans Has Food

Plan to gain a few pounds.  You can find good food almost anywhere in the French Quarter.  And don't forget the Garden District and other neighborhoods.

Top Cajun chefs started restaurants in New Orleans and popularized Cajun food all over the world.  We had great meals at Chef Paul Prudhomme's K-Pauls Louisiana Kitchen and at Emeril Lagasse's NOLA.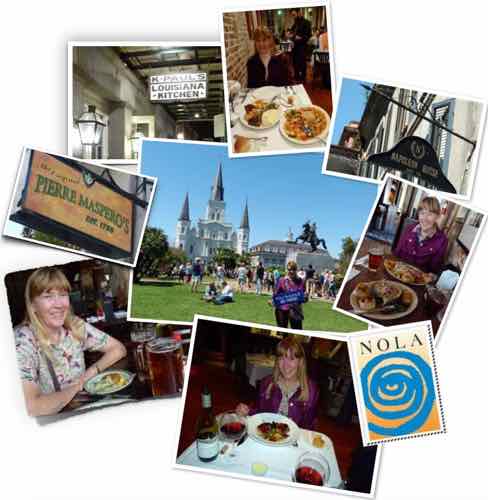 We stopped for sandwiches or crab cakes or po' boys at historic bars like the the Napoleon House… a 200 year old landmark or the Pierre Maspero's in one of the oldest buildings.
There are plenty of places for a quick bite.  If you want beer or cocktails and a raucous time,  just stroll down Bourbon Street… day or night!

You Should Be Here!

We really feel a DreamTrips membership will get you traveling sooner... Fun!  Every penny you spend in the nominal membership comes back to you to use for travel. 
Take a look at some DreamTrips and get on board!


Happy travels... even if you don't travel the world... just remember that life is a journey... embrace and enjoy it! Judy and Mark
Curious about what else we've written about?  Search our site for a destination or travel tip.

But... We'd love to have you share this page or comment on it…
Thanks, Judy and Mark