Packing For Road Trips
Flying First? Our Advice... Pack Light
"Are there special tips packing for road trips in foreign countries? It sounds like you take road trips all over the world. We're thinking of driving in France." - Susan
Packing for road trips... that's something that most American families are familiar with... In our travels, we're found that where people can afford a car, family road trips are pretty popular no matter what continent you're on.
But wait... Susan asked us about taking a driving vacation in a foreign country... so remember, we're talking about flying to your destination then renting a car.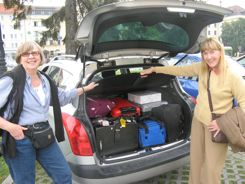 When we were kids, summer meant a road trip somewhere.
The main difference in packing for a driving trip in a foreign country is... You have to pack as light as you would for any trip abroad.
You really can't include the kitchen sink as part of your luggage if you're flying there.
(For our international readers, that's one of those weird American phrases... as in "My sister packs so much she even takes the kitchen sink.")
Packing for Road Trips...
See Lists to the Right Bottom of Column--->
We won't include a road trip packing list here... you can find all of our packing lists in the "Navigate Our Site" box in the right column. You're going to pack the same way you would pack for any other foreign trip... pack light... choose from lists for cold weather or warm weather or somewhere in between.
There are pages with tips about what you can take on the plane there too. What we wanted to stress here is that if you're flying to the area you will be touring, packing for road trips really isn't different from packing for any other trip be it domestic or international.

Cars May Be Smaller - The Trunk Too!
When we rent a car, we usually try to get the smallest car that we can for several reasons. In most places in the world, gasoline costs way more than it does in the USA.... and it's even reaching all time highs here. Smaller cars are generally better on gas usage. They're easier to get through narrow village streets, and easier to park.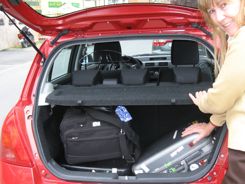 Those smaller cars come with smaller trunks though... remember that for your road trip packing.
You need to be able to fit your luggage and those larger "personal items" like a travel purse in the car.
My "travel purse" is more than just the little bag I sling over my shoulder.
That's usually pretty easy when it's just the two of us. When we travel with friends, we get a slightly bigger car... but then we're trying to fit four carry-on suitcases into the trunk or boot if you prefer. (Just like in that photo at the top.)
We've had cars where getting the luggage in was a challenge.... and they only fit if we loaded them the same way every time.

Shopping On Road Trips Is Fun!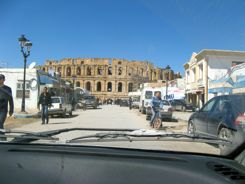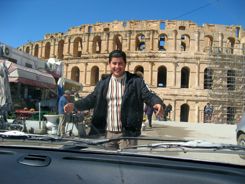 When we're giving you packing advice we always tell you to pack light because if you forget something, you can always get it at your destination.... that goes when packing for road trips too.
Stopping to shop on a foreign road trip can give you just a little more insight into the country you're visiting. Shop in local towns and villages... or stop in shopping centers. Does it surprise you that you can find shopping malls almost anywhere?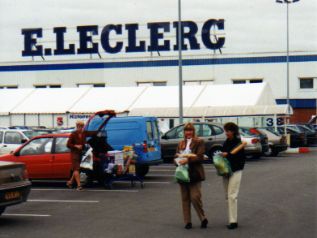 We've stopped at grocery stores to by a picnic lunch and hardware stores to pick up an extra electrical adaptor. If we're on a long trip, we usually shop for toothpaste, shampoo and sunscreen... can't take too many liquids on the plane in your carry-on luggage!
Many gasoline stations around the world have great convenience stores where you can get most of what you'll need... from just snacks and water to wine for the evening or a good fresh sandwich for the road. There's a lot of variability here, but the point is, there are shopping options.

Pack Your Maps
If you've planned your road trip, you've probably got some maps that you want to take with you. We make a general plan for our driving route, but then adapt it as we go... that kind of freedom is what makes a road trip fun.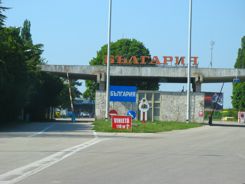 Sometimes you can get by with the maps you bring from home, but there are times when it's a good idea to buy a map locally.
On our road trip through Romania and Bulgaria, we bought maps there. That was especially helpful in Bulgaria where the alphabet is Cyrillic.
The map we bought had city names in both Cyrillic and the Latin alphabets. That certainly helped us reading road signs, though at important junctions, the road signs also listed both... that was a relief!
Packing for Road Trips - Pack As You Would For Any Trip
The bottom line here is, you have to pack for your flight and pack for the weather conditions you will be heading to. Beyond the maps, and maybe an extra set of eye glasses (which are legally required in some countries) there really isn't anything special you need to do differently when packing for road trips... You can find anything you need on the road... and have fun finding it!
Happy travels... even if you don't travel the world... just remember that life is a journey... embrace and enjoy it!   Judy and Mark
Curious about what else we've written about? Search our site for a destination or travel tip.
Go to International Travel Tips l Europe Travel Tips
Hotel and B&B Tips l Packing Lists and Tips
Go from Packing for Road Trips to MouseToursTravels Home Page
Privacy and Legal Policy
But... We'd love to have you share this page...
Use one of the handy "share this page" buttons below. Thanks, Judy and Mark