The Holidays are Here!

Time to remind you we have tips on
Surviving Holiday Flights

Remember, if you're carrying gifts, it's better not to wrap them… airport security might make you open them!

Have time for a quick trip to prepare for Christmas? We have ideas...
European Christmas Markets
German Christmas Markets
Seiffen Germany Makes Christmas Decorations
Cold Weather Packing List
The holidays can be hectic, but treat yourself..
Take the holiday time to explore more pages here... Get ideas for travel destinations and how to get there.
NOW is the time to start planning for a great trip next year.

Need Travel Ideas?
Things to See in Europe
Africa Calls!
Travel In America

Don't just dream about it...
Start making plans!
Custom Tour Planning List
International Travel Planning Tips
Foreign Is Fun - Not Scary!
Get Your Passports and Visas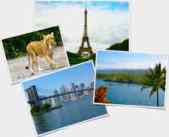 DreamTrips can get you traveling sooner and cheaper that you thought possible