Summer Vacation
Travel is fun in the Northern summer... but don't neglect the Southern Hemisphere at this time of year.
Yes, it's winter in South Africa, but that's their dry season. It's a good time to travel there.
Sometimes you need to watch rain patterns instead of just seasons to figure the best time to travel...
And here's a suggestion if you don't want to plan it all yourself and you want great help....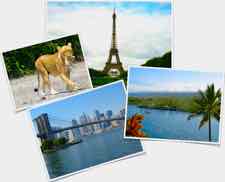 DreamTrips can get you traveling sooner and cheaper that you thought possible
Whether you're taking a road trip close to home or traveling abroad...

Whether it's summer or winter in your part of the world...
the way you pack can make it all more pleasurable.

Check out all our Packing Lists and Tips.


Need travel ideas?
Things to See in Europe
Africa Calls!
Travel In America

Don't just dream about it...
Start making plans!
Custom Tour Planning List
International Travel Planning Tips
Foreign Is Fun - Not Scary!
Get Your Passports and Visas
And Expect Good Things
There Are Tourist Angels